Area communities declare snow emergency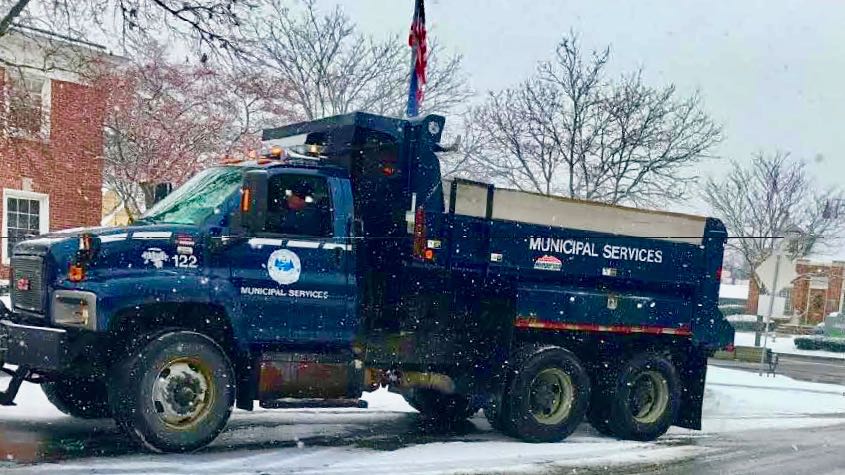 Dec. 13, 2017  PLYMOUTH VOICE.
Plymouth Michigan News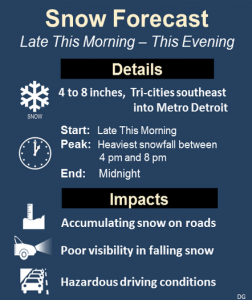 NATIONAL WEATHER SERVICE
A Winter Storm Warning is in effect for much of SE Michigan where 5-8 inches of snow is expected. An advisory is in effect both north and south of this main swath of snow where accumulations will be closer to 4 inches. Expected timing is late morning to late in the evening, with a peak from 4pm to 8pm when snowfall rates will be the heaviest. Roads will become snow covered and visibilities will be reduced in the heavy snowfall – extreme caution is urged for drivers.
PLYMOUTH 
At 11:00 a.m. Wednesday, the City of Plymouth declared a snow emergency. Parking on City streets is prohibited. City Department of Municipal Services crews plan to plow major City streets and move to residential snow plowing operations during the afternoon and evening, as weather conditions allow. According to a news release, the snow emergency is expected to remain in effect until 11:00 a.m. Thursday, Dec. 14.
CANTON
At 1:00 p.m. Wednesday, Director of Pubic Safety, Joshua Meier, declared a snow emergency for the Township of Canton through 12:00 p.m. Friday, Dec. 15.
Plymouth Voice.