Neighbors' program planned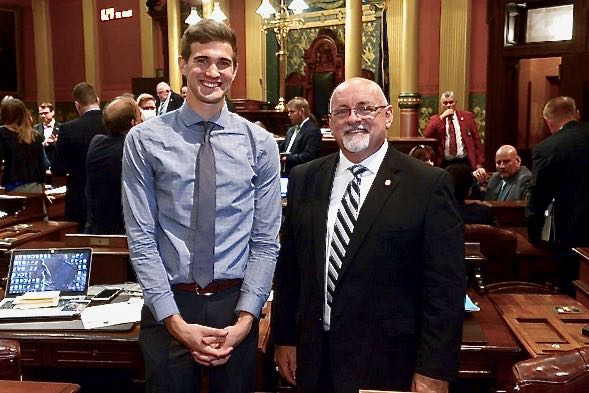 Local resident Josh Schriver on a recent visit to Lansing with state Rep Jeff Noble. Shriver is volunteering as a township Community Service Coordinator.
Dec. 15, 2017  PLYMOUTH EAGLE.
Plymouth Michigan News
Plymouth Township will begin a new program called "Neighbors Helping Neighbors" in 2018 – an initiative designed to pair residents in need with volunteers willing to help.
"This is an idea that I had been thinking about for some time," said Township Clerk Jerry Vorva, whose office will be leading the effort. "It's a great way to provide help to residents at virtually no cost to the taxpayers."
Local resident Joshua Schriver, who is volunteering as the township Community Service Coordinator, is developing the program by assembling a database of volunteers and groups looking to help, and will work to match those volunteers with residents in need.
"We find that many of our neighbors just need a hand with light housework, yard cleaning, snow shoveling, and debris removal," said Vorva, "we also know that we have hundreds of volunteers in our community – individuals, business, schools, churches and others – who are looking for opportunities to give back.
"I think it will be a unique way for the township to serve as a clearinghouse for folks looking to help and those who need it," Vorva added.
The "Neighbors Helping Neighbors" program will officially begin in January. Until then, Schriver will be contacting individuals and organizations looking to participate in the program.
Individuals or organizations willing to help, can reach Schriver at (734) 414-1423 or email him at volunteer@plymouthtwp.org.
Plymouth Voice.
Photo: Michigan House Repbulicans