Annual Fall Festival starts Friday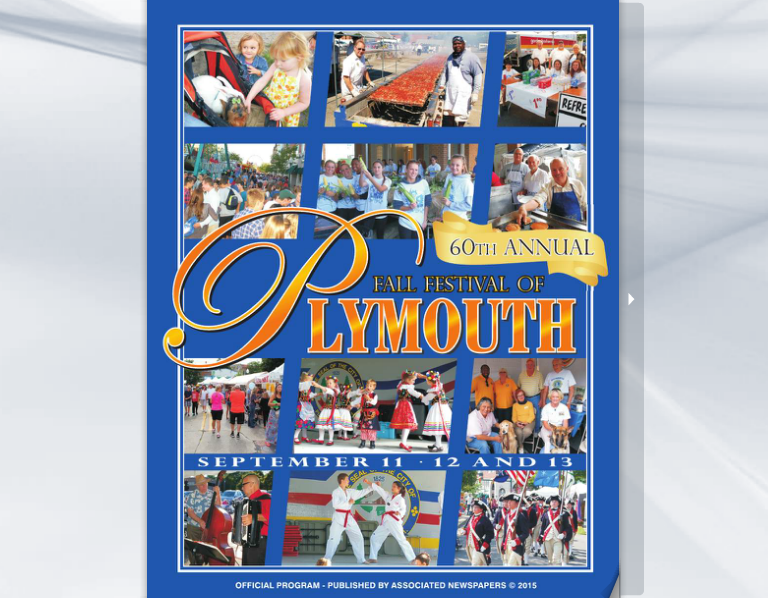 Sep. 6, 2015  PLYMOUTH EAGLE.
Plymouth Michigan News
FALL FESTIVAL INFORMATION
FREE Official Guide to the Fall Festival events included with this week's edition of
The Eagle
THE EAGLE ……A PUBLICATION OF ASSOCIATED NEWSPAPERS OF MICHIGAN
The Belleville Enterprise – The Canton Eagle – The Inkster Star – The Northville Eagle – The Plymouth Eagle – The Romulus Roman – The Wayne Eagle – The Westland Eagle
To advertise in The Eagle Call 734-467-1900
www.associatednewspapers.net
CALL FOR HOME DELIVERY
Starting Friday 75,000 people will converge on Plymouth to enjoy the 60th Annual Fall Festival. Main Street and surrounding streets will be lined with booths from local clubs, community groups, school teams, churches, garden clubs, veterans and businesses. Kellogg Park will feature entertainment on stage and in the park.
Entertainment -Kellogg Park … see complete festival details with Official Fall Festival Guide
Friday September 11th  
6:30pm P-CEP Choir
7:00pm – Sound Alternative
Saturday September 12th
9:00 a.m.- Optimist Pet Show
11:00 a.m.- Polish National Alliance Centennial Dancers
12:00 p.m.- Plymouth Fife and Drum Corp
1:00 p.m.- Lions club Leader dogs
2:00 p.m.- Forever after Productions/Dance Beat
3:30 p.m.- Plymouth Library's Fall Fest -Cool Tricks & Funny Stuff Magic Show -Featuring Chris Linn.
7:00 p.m.- Trilogy -The Ultimate Variety Band
Sunday September 13th
11:00 a.m.- Midwest Tae Kwan Do
12:00 p.m.- CORE Nutrition and Fitness Cardio Kickboxing, Tabada, and Cardio Drumming
2:00 p.m.- O'Hare School of Irish Dance
3:00 p.m.- Canton Chiefettes, Plymouth wildcats, Salem Rocket's Pom pon squads
4:00 to 6:00 p.m.- Acoustic Madness Band
Plymouth Voice.