Training day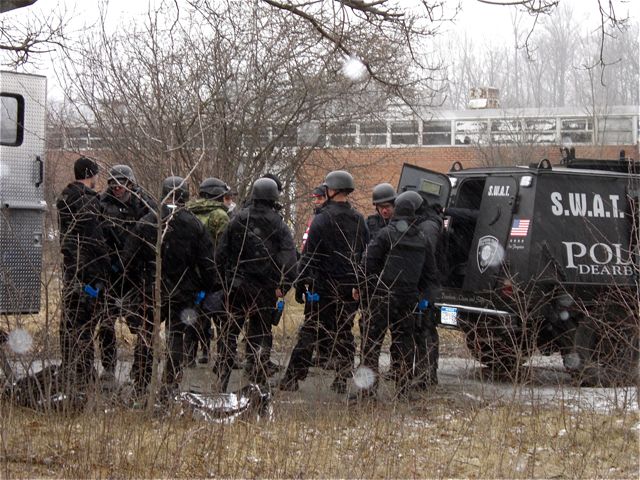 Mar. 14, 2013  PLYMOUTH EAGLE.
Northville hosts first responder specialty teams
More than 300 highly trained crisis professionals swarmed the grounds and buildings at the former Northville Psychiatric Hospital site Tuesday prepared to deal with exploding improvised bombs, heavy arms fire from multiple shooters, hostage situations and the use of chemical weapons.
The specially-trained crisis first responders were at the site to demonstrate their skill in dealing with mock terrorist attacks during drills simulating real crisis situations.
Northville Township played host to 13 Southeast Michigan First Responder Specialty Teams at the closed psychiatric facility in what Northville Township Director of Public Safety John Werth described as "a multi-jurisdictional, multi-disciplinary training event."
In addition to the Northville Township Police and Fire Departments, the 13 specialty teams represented 50 local agencies.
The site, on Seven Mile Road, provided a very realistic full-scale scenario for the exercises, which continued most of the day. The training was partially funded through Urban Area Security Initiative (UASI) Homeland Security Grants and was designed to provide an accurate assessment of the various teams' capabilities. The federal grants have funded the specialized first-responder training for the past several years.
"Northville Township supported this training exercise both as a means to test response capabilities and promote regional cooperation. The site provided a good test for the capabilities of many of the region's special response units. The Police and Fire Departments of Northville Township were happy to contribute to the development of the capabilities of teams that we hope are never needed," Werth said, in a prepared statement.
"As a key region of our nation's homeland security infrastructure, we have made a very strong commitment towards both planning for major crisis situations and conducting exercises that evaluate our response capabilities and overall preparedness,"' he said. |News Plymouth Michigan