Train app tells when tracks are blocked – a new band-aid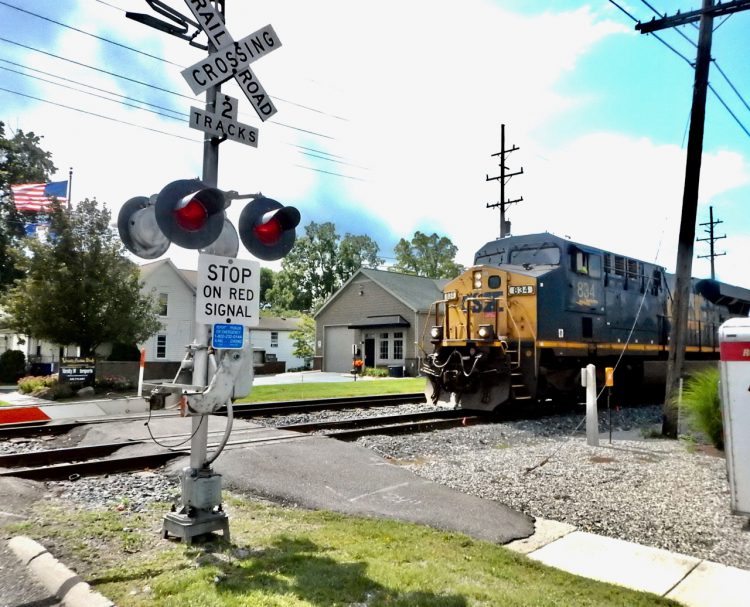 May 6, 2021  PLYMOUTH VOICE.
Plymouth Michigan News
OPINION
Complaints about blocked crossings are not a new topic in a town built around the railroad 150 years ago.
Plymouth city officials just announced that they are testing a new mobile app that will notify motorists of the approximate waiting time when the city's railroad tracks are blocked. It may ease motorist's nerves, but will not the treat the daily annoyance of trains blocking crossings. It's meant to be a band-aid measure to solve a complex problem.
Plymouth is a unique railroad intersection town where trains regularly travel in all four directions at all hours, day and night. Delays have plagued travelers for decades, some stretching 2-3 miles, 20 to 45 minutes to an hour at a time.  Unending promises over the years by elected officials to address the chronic train crossing issues facing the community have sadly failed, and sparked endless resident complaints.
In recent years, frustrated city leaders have attempted to alleviate the train delay problem after facing irate residents. Traffic tickets have been issued to train engineers in an attempt to find a solution to the problem.
In 2002, then State Attorney General Jennifer Granholm challenged the CSX with a court action and defended a 1994 Michigan statue that prohibits trains from continuously blocking crossings for longer than five minutes. Each violation of the state statue resulted in a $500 fine and CSX was issued over 890 citations with potential fines exceeding $446,000. CSX then filed a countersuit against Plymouth in the U.S. District Court for the Eastern District of Michigan claiming the state statue is preempted by federal statues. The court agreed that the regulation was preempted by both the Federal Railroad Safety Act and the Interstate Commerce Commission Termination Act. Plymouth did not appeal.
Those informed and dedicated to fixing this situation say it isn't just a matter of convenience; it is a matter of public safety and economic security. Families face challenges getting to work, taking their children to school or making important appointments because they're landlocked by stopped trains. The safety of our city is jeopardized when police and firefighters are unable to get where they need to go quickly and efficiently.
The app, created by the Grosse Ile firm Integrated Traffic Systems, is still under development and is currently only active for the Farmer Street crossing. It's free for anyone to install from the Apple App Store. An Android version is said to be under development.
The app uses push notifications and collects personal data from the user to communicate with the user based on geographic location. Users must register or create an account.
According to officials, there are settings to let users receive notifications all the time or for just a specific time or day of the week. Also, an optional setting uses your location and sends a notification when you're within range of a blocked crossing. There is a  "chance of train" feature to help you plan your trip by seeing the likelihood of a blocked crossing, according to a press release.
READ MORE
Stabenow no-show at CSX Railroad Meeting
Plymouth's railroad problems – far from over
Plymouth Voice.