Reps address railroad crossing delays-in Downriver communities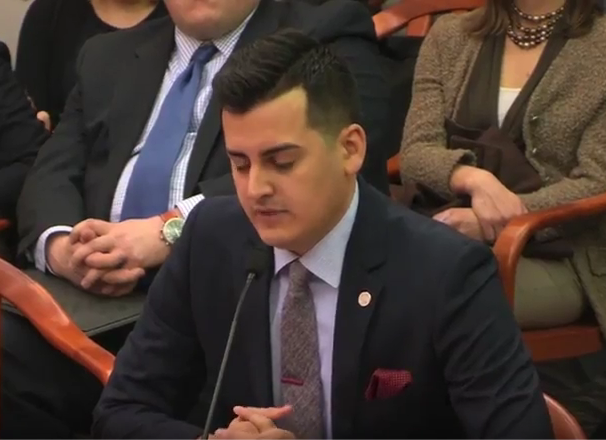 Downriver State Rep Darrin Camilleri testifies in front of House Appropriations Subcommittee on Transportation this week to talk about continuing problems with trains blocking railroad crossings-something well known to the Plymouth-Canton community.
Apr. 19, 2018  PLYMOUTH VOICE.
Plymouth Michigan News
"The safety of our community is jeopardized when police and firefighters are unable to get where they need to go quickly and efficiently."
WATCH VIDEO
State Reps. Darrin Camilleri (Brownstown Township) and Erika Geiss (Taylor) introduced legislation this week to create the Meeting Immediate Transportation, Rail and Infrastructure Needs (MI-TRAIN) fund, a house bill to fix rail grade crossing issues across the state. The $13 million a year fund would address the chronic train crossing issues facing Downriver and other communities when trains pause and delay traffic to load or unload equipment at a yard or conduct crew changes.
"Trains blocking traffic for an hour or more shouldn't be the norm, but it has become a way of life for our Downriver community. That's not right," Rep. Camilleri said. "Fixing this problem isn't just a matter of convenience, it is a matter of public safety and economic security. Families face challenges getting to work, taking their children to school or making important appointments because they're landlocked by stopped trains. And the safety of our community is jeopardized when police and firefighters are unable to get where they need to go quickly and efficiently. We have to prioritize funding for these necessary infrastructure improvements to keep our communities safe. I'm committed to exploring all possible options to address this problem, and I will continue fighting until my colleagues in Lansing act with the urgency our communities deserve."
Michigan has nearly 4,000 miles of operating railroad tracks and 29 railroads that operate fully or partially within the state today. In Rep. Camilleri's district alone, there are four major crossings where railways intersect with roads, causing unpredictable delays and blockages.
Downriver has some of the longest and most intrusive train crossings in the state, some of which will require large investments to address. Some estimates say that a single grade separation can cost more than $30 million. Money in the MI-TRAIN fund would help bolster efforts to install grade separations at congested railroad crossings.
"I'm proud to co-sponsor and work with Rep. Camilleri to address this very serious issue plaguing our communities, and many others across the state," said Rep. Geiss. "Having attended every possible meeting to discuss potential solutions with our first responders, elected officials and constituents, I urge my colleagues to support this legislation which would help ensure the safety and economic security of our residents."
Plymouth Voice.