Town Hall meeting on Beck Rd. widening project – Monday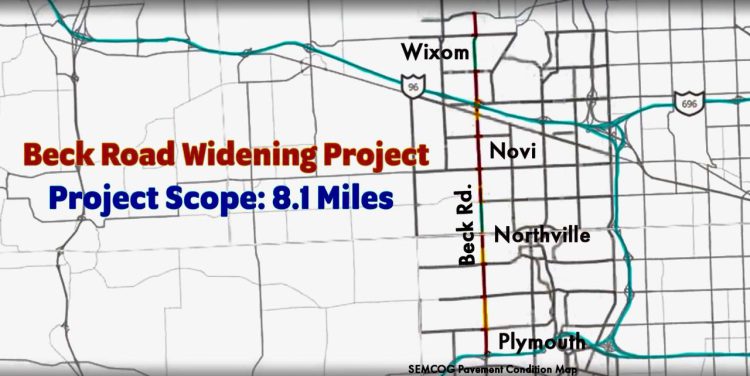 Nov. 5, 2021  PLYMOUTH VOICE.
Plymouth Michigan News
Northville Township officials has scheduled a town hall meeting set for Monday, Nov. 8 at 7:00 p.m. to discuss the widening of Beck Road to four or five lanes between Wixom and Northville Township.
Wixom, Novi, Northville, Northville Township and Commerce Township are working together to modernize 8 miles of Beck Road between I-96 and M-14. The communities along with project engineers are evaluating the impact and examining various alternatives after at receiving federal funding.
The 2–3-year project includes widening Beck Road from the current two or three-lane configuration to either five lanes or four lanes with an included boulevard in some sections It also includes a rail grade overpass for the CSX owned tracks in Wixom.
The town hall meeting was set by township officials to solicit formal public input, present information and answer questions regarding the funding and planned construction timetable. Engineers estimate the average daily traffic volume on Beck Road is in excess of 25,000 cars, well above the capacity of a two-lane road, and the crash frequency is ten times the regional average.
Northville Township Hall is located at 44405 Six Mile at Sheldon Road. The speakers will be Northville Township Supervisor Mark Abbo, Wixom City Manager Steve Brown and Project Manager J. Phil McGuire of Michael Baker International.
The meeting will be live-streamed, but to ask questions and participate you must attend in person.
To watch the meeting online, visit the Township's website at https://twp.northville.mi.us/RemoteMeetings.
For more background on the proposed project, visit https://www.becktothefuture.org
Plymouth Voice.