Wasting Money on Windmills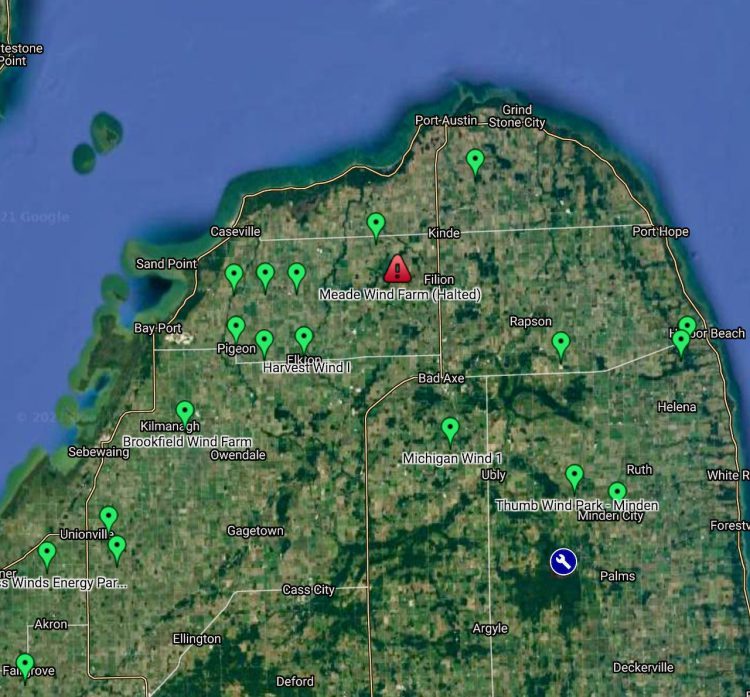 Nov. 2, 2021  PLYMOUTH VOICE.
Plymouth Michigan News
OPINION
"All those millions of dollars could be used instead to meet other critical needs"
In their latest monthly Customer Connections newsletter DTE Energy is touting the on-going construction of its newest $300 million wind park in mid-Michigan, known as Meridian Wind. There will be 77 wind turbines located in the Great Lakes Bay Region across 20,000 acres in three townships; Mt. Haley and Porter in Midland County, and Jonesfield in Saginaw County. When complete, Meridian Wind will be the largest wind farm in the state.

At the same time the Meridian project goes forward DTE customers in the southeast part of the state continue to suffer major electric disturbances and outages because of badly needed equipment upgrades and repairs. Critics say perhaps some or all of those millions of dollars could be used instead to meet other critical needs.
Currently there are 1,581 operational wind turbines in Michigan and 1,257 of them, or about 80%, are located around Mid-Michigan. Property owners receive a royalty from DTE for the use of their land. Depending on the amount of energy generated, the royalty could range from $20-$40 per acre per year. According to statistics, the typical acreage in an agreement is 80-100 acres. U.S wind farms are paying a total of $222 million dollars to property owners across the country. According to informed sources, this number is poised to grow exponentially over the coming years.
Claiming Meridian Wind will bring millions of dollars of additional tax revenue to the local host communities, DTE maintains the increased revenue can provide funding for police, schools, road and other vital community services. DTE states in their October 2021 issue that more than 80% of the 350 people working on the projects' construction are Michigan workers.
The Meridian Wind project started in 2016 after DTE assessed the land, wildlife, met with local government officials and set lease agreements with property owners. The project is part of a larger effort by DTE to use more renewable energy after the Michigan Public Service Commission (MPSC) required electric providers to increase their renewable energy portfolio to 15% in 2021. MPSC approved DTE's project in 2020.
As progressive "green" groups cheer DTE's effort Michigan ratepayers have little to celebrate. Michigan needs only to look at our Canadian neighbors in Ontario.
According to the Mackinaw Center, in 2005 Ontario's provincial government started a process to phase-out its coal-fired plants, one of the province's least expensive and most flexible sources of generating electricity. Ontario shuttered its last coal plant in 2014 and made it illegal to build any more. Subsequently Ontario now has the fastest-growing electricity rates in Canada and among the highest rates in North America. Furthermore, subsequent research showed that the shutdown of coal plants raised electricity rates in the province but provided few environmental benefit. One analysis found that, had the province simply continued with retrofitting coal plants, it could have achieved similar environmental benefits at one-tenth the cost of the green energy programs.
A wind turbine stands 328 feet tall and the blades are 164 feet in length, so the entire turbine reaches a height of 492 feet. DTE offers a comparison of the Statue of Liberty that is 305 feet in height. One blade weighs seven tons.
Aside from of the overwhelming size and fact that wind farms radically change idyllic farm landscapes into commercial looking power plants, many residents oppose wind farms saying they don't feel like they have a say in what is being built and that the benefits aren't really accruing to them, but to outsiders. Opposition groups point to a number of big issues concerning wind turbines, and possible effects on human health is one of the most commonly discussed and highly debated. Accordingly, some people that live near wind turbines have reported adverse health effects such as ringing in ears, headaches, lack of concentration, vertigo, and sleep disruption that they attribute to the wind turbines, say nothing of the health effects of radiation from radio frequency electromagnetic fields, (EMFs).
DTE has plans to complete the Meridian Wind Farm by spring of 2022.
Wasting Money on Windmills
By Jack McHugh
A recent article in Slate by Robert Bryce describes how Texas has more wind generator capacity than any other state — around 9,700 megawatts. But last August, when state electricity demand set a one-day record of 63,494 megawatts, all those windmills contributed just 500 megawatts, or about 5 percent of their rated capacity.
Apparently, the hottest days in Texas have something in common with those in Michigan —they're usually not very windy. What's more, the entity that operates the state's electricity grid determined that on a year-round basis, all those spinning turbine blades are expected to contribute just 8.7 percent of their rated capacity.
Nevertheless, Texas families are now paying $4 more for electricity every month for a network of power lines connecting those distant rural wind turbines to where most people live.
The Texas experience is a stark preview of what Michigan can expect as a renewable electricity mandate imposed by the Legislature in 2008 begins to kick-in (see who voted yes and who voted no in the Senate and House). Unless repealed, it requires 10 percent of the state's electricity to come from "renewable" sources by 2015, and it allows utilities to stick families and businesses with higher bills to pay for this hugely more expensive power. The mandate is what's behind all the talk and plans to line Great Lakes shorelines with huge wind turbines and towers. And as in Texas, these will impose even more costs to string power lines from the lake-shores to population centers.
Bryce summarizes:
Understanding wind's unreliability is critically important now, at a time when America's basic infrastructure is crumbling and in desperate need of new investment. In June, the Government Accountability Office issued a report that said that "communities will need hundreds of billions of dollars in coming years to construct and upgrade wastewater infrastructure." Add in the need for new spending on roads, dams, bridges, pipelines, and mass transit systems, and it quickly becomes clear that politicians' infatuation with wind energy is diverting money away from projects that are more deserving and far more important to the general public.
(This article was originally published in February, 2011)
****
Plymouth Voice.