Teen accused of murder plot offered deal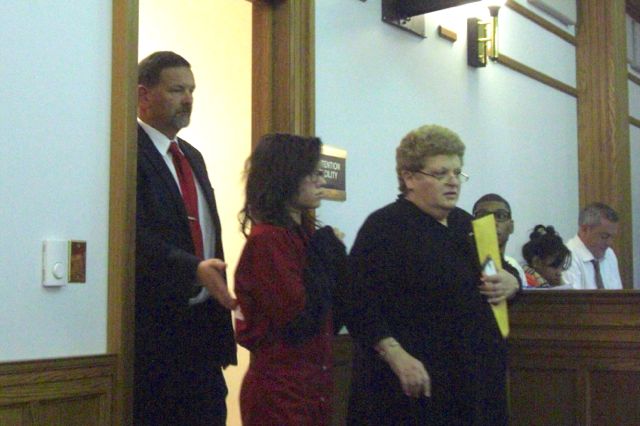 Roksana Sikorsk and her then attorney Leslie Posner was escorted into the 35th District Courtroom for a preliminary exam by a Plymouth Township police officer last October. Photo by Don Howard.
Jun. 5, 2015  PLYMOUTH EAGLE.
Plymouth Michigan News
Prosecutors have offered a pleas deal to the 15-year old Plymouth Township girl accused of attempting to murder her family by slitting their throats as they slept.
In addition, Wayne County Circuit Court Judge James A. Callahan threw out the confession of Roksana Sikorski, saying that she was too young to have waived her rights when she spoke to police investigators and told them she slashed the throat of her 12-year-old brother Oct. 17.
Sikorski, being tried as an adult, would have to plead guilty to the attempted murder charges and face a sentence of 15 to 30 years in prison as part of the plea deal.
In a separate action, Callahan removed defense attorney Leslie Posner from the case, replacing her with court-appointed Matthew Evans, an experienced defense attorney. Callahan told Posner, during a brief hearing in his chambers earlier this month that there was a conflict of interest in the Sikorskis paying for their daughter's defense as they were among her intended victims in the alleged crimes. Posner, who told the judge that the Sikorski family had run out of money, asked Callahan to designate her as the court appointed public defender for the teen, who has remained in the Wayne County Juvenile Detention Center since her arrest Oct. 18. She and her 23-year old boyfriend, Michael Rivera, are accused of plotting the attack on her family as a way to be together and avoid the sexual misconduct charges her parents had filed against him in an effort to break up the relation- ship.
The judge agreed to provide Evans as the public defender for Sikorski noting that Posner was not qualified as a court-appointed attorney.
A jury trial for Sikorski and Rivera was scheduled to begin May 13. Callahan imposed a gag order on the case in February following a televised interview with the parents and reported comments from Posner, who spoke to the media about the plea-bargain offer and change in defense counsel only after being removed as Sikorski's attorney.
Posner claims there is no conflict of interest because she did not discuss substantive matters with Sikorski's parents. According to police reports, officers were called to the Sikorski's Heather Hills home in Plymouth Township at about 2:30 a.m. Oct. 17 after the family was awakened by the 12-year-old boy's screams. The boy told police his sister had attacked him with a knife as he slept and police investigators later discovered text messages on Sikorski's phone indicating that Rivera was outside the home, giving her instructions and advice on killing her entire family by slashing their throats. The two were arrested the following day at Rivera's Detroit home and have remained in custody on $1 million bond.
The three Sikorski children were adopted from an orphanage in Poland about 10 years ago. Sikorski was allegedly abused by her birth parents prior to her adoption and Posner has claimed that the teen suffers from a form of post traumatic stress disorder and was intimidated into the attempted murders by Rivera, under duress.
No further information is available due to the gag order.
Plymouth Voice.