Joint Northville/Plymouth recreation area proposed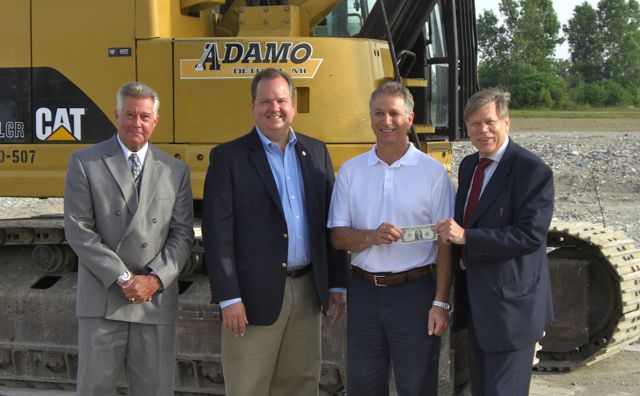 Northville Township Manager Chip Snider, State Rep. Kurt Heise, John Adamo Jr., CEO Adamo Group with Northville Township Supervisor Robert Nix at Scott Prison clean-up 2013.
Jun. 7, 2015  PLYMOUTH EAGLE.
Plymouth Michigan News
Don Howard
Staff Writer
Elected officials from the City of Northville, Northville Township and Plymouth Township are working toward a new cooperative recreation area to serve the three communities.
Northville Township Manger Chip Snider said last week that Plymouth Township Supervisor Shannon Price had expressed his desire to be involved in the development of recreation opportunities that could be shared by the three communities. At a recent meeting of the Northville/Northville Township Recreation Committee, Price requested that Plymouth Township join the effort to offer a community recreation center that would serve the needs of families and seniors alike. The committee is currently in talks to develop a soccer park and other amenities at the former Robert Scott Prison property, closed by the state in 2012.
The former prison site on Five Mile Road is being considered by members of the joint Northville city and township recreation committee which includes members of the Northville Community Schools Board of Education. Price appeared at the recent meeting asking to have Plymouth Township included in the recreational park development. The property includes the area north of Five Mile from Beck to Napier roads. Northville Township officials were able to acquire the property with help from State Rep. Kurt Heise at a final cost of $1.
Snider said that national surveys have indicated that people will travel up to 4 miles to seek recreation. "With our largest field being at Five Mile and Beck, a Plymouth resident would not have far to travel," he said. Snider said that all current programming would be under evaluation for improvement. "For example, soccer would be a high priority, we have several well-groomed fields that would serve Lacrosse as well. Baseball could be combined and I believe there would be some economy in terms of field maintenance and resources."
Snider added that a consolidation of park administrative costs would be a financial and organizational benefit for all three communities.
"The legal definition of consolidation might not cause each community to gain or lose assets just simply a shared service agreement much like we have with the City of Northville," Snider said. He added that recent discussions on the soccer contract stimulated dialogue regarding the proposed collaboration. He said that Price's request is a reflection of the cooperation between the townships of Northville and Plymouth.
"The Five Mile Road corridor has been evidence of the collaboration resulting in development throughout our border," Snider said.
Plymouth Voice.