Story-telling Mayor visits summers past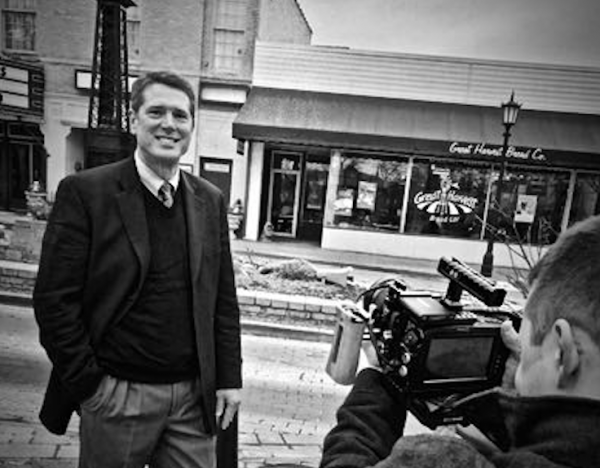 Aug. 14, 2020  PLYMOUTH VOICE.
Plymouth Michigan News
Dear Northvillians
Mayor Brian Turnbull, like his late father, likes to tell stories and reminisce about the history of Northville.
This week, in one of Turnbull's frequent and whimsical epistle-like newsletters, he takes his readers on a brief journey looking at summers past in Northville and highlights the city's sidewalk sales that start with the installation of new walkways in 1959.
Historically, Northville has had an annual sidewalk sale where local residents and up to 10,000 visitors attended, according to the Northville Record. The event was festive with a lot of interaction among vendors and buyers, friends, families and visitors. The Northville Electric Shop, that being the Turnbull family business where "Baby Baby" is located today, would bring out its small appliances, lamps and radios for special discounts.
 Many of the old-timers will remember these annual events with their carnival-like atmosphere, cotton candy and pony rides.

In 1959 – The Retail Merchants Association celebrated the installation of new sidewalks with a special outdoor sale that kept gaining momentum for the next 40 years.
In 1960 – Free glasses of ginger ale (a reported 5,000) and pony rides were part of the festivities.
In 1964 – Early shoppers bought loaves of bread for a nickel, and the Old Mill restaurant sold 1,000 hotdogs.
In 1965 – A precursor of the Downtown social district we have today was established with closing of Main Street to all traffic. Retailers displayed their merchandise on tables lined up along the street. The chairman of this annual event was old-time Northvillian Charlie Lapham.
In 1971 – The City's new parking deck opened and was at capacity for the sale; 28 merchants, with 80 exhibitors.
In 1978 – The event had 40 merchants and 130 vendor booths. There was free parking with shuttles from Northville Downs.
In the 1980's – The Main Street Beautification project was completed, accommodating the growing number of vendors – there were 238 in 1984.
In 2009 – The "Buy Michigan" Festival debuted as part of the town's Sidewalk Sale festivities.
This past weekend there was another successful "Sidewalk Sale" event downtown. The City Council has permitted all Northville merchants to display their goods on the sidewalks through October.31 to further expand on the festive environment that comes with closing two main streets in Downtown Northville.
 I encourage you to shop locally and assist our community by supporting local business owners. With our downtown now ideal for walking and dining outside, I hope you will enjoy a walk around the "Ville" and historic Northville as we get closer to summer's end.
 Be safe and continue to Stay "Northville Strong!"
 Brian Tunrbull
Turnbull is a first term Mayor elected in 2019 after defeating incumbent Ken Roth. According to his campaign website, the Turnbull family has been engaged in city civic activities, downtown businesses and volunteer support agencies for five generations.  Turnbull is a life-long Northville resident and 1979 graduate of Northville High School. His grandparents were the local storeowners of the Northville Barber Shop and Northville Electric Shop. Brian's father, Bruce Turnbull, also known as a "story-teller", was considered Northville's long-time historian, serving this role for most of his seasoned life to the age of 98 – reportedly speaking to over 1,200 people on local history before he passed away. Turnbull is a Ford Motor Company retiree.
Plymouth Voice.