Residents pay for failed leadership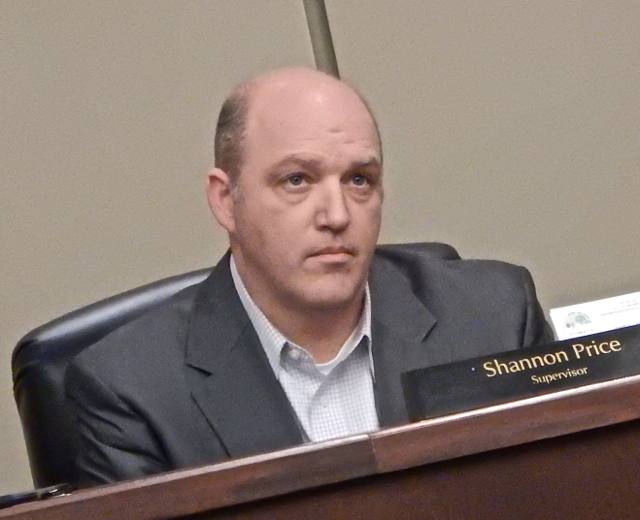 Jul. 21, 2016  PLYMOUTH VOICE.
Plymouth Michigan News
OPINION
Despite the widespread criticism of his political appointment to the supervisor's job in Plymouth Township, Shannon Price had the opportunity to quiet his critics and demonstrate the leadership necessary to reform the pervasive toxic environment in township hall.
He repeatedly asked voters and residents to "give him a chance" when he was first named to the job.  Despite the doubts and cloud of offensive political maneuvers that surrounded his fledgling appointment, many did just that.
They have been, as we are, cruelly disappointed in his failed performance.
It is unfortunate for everyone involved that he did not live up to the opportunity he was presented but rather allowed the continued malignant environment of ego and self-aggrandizement to metastasize in Township Hall.
Apparently, the odor of sulfur and brimstone emanating from the office of Supreme Ruler/Treasurer Ron Edwards was not enough to warn Price that control of the supervisor's duties, and those of so many other township officials, would have to be forcefully wrested away from his political benefactor.
The question on most minds when Price was appointed to the job was whether he had the administrative skills, the personal integrity and the political clout to regain control of the township where Edwards has been running amok with wild spending and elaborate ego projects for years. As we all now know, the answer to that question is a resounding NO.
Not only did he not reestablish controls on Edwards' usurpation of nearly every township department, he was apparently somehow seduced into supporting Edwards and using his newfound authority to join in the rampant and unnecessary spending of taxpayers' money to fund his own political paybacks.
We're afraid Plymouth Township faces a dismal future should the voters return Shannon Price to the Supervisor job, one to which he was appointed just last year.
Our voice alone might not convince the undecided to question his rational power but a careful examination of facts and happenings under his watch will certainly give credence to all the misdeeds that have damaged and stifled the future of our community and perhaps be good cause for reconsideration before it's too late on Aug. 2.
Allowing the fractured relationship between the township and the city to continue is an unforgivable deed that needs to be resolved without litigation, unlike Price's assignment of every negotiation to an attorney. We also recognize Price's political ally and supporter Mike Cox must be repaid in some way.
One of the biggest smoke screens Price has promulgated with his many open declarations and falsehoods is that the community is somehow now safe, implying the condition of the decimated fire department is "better than ever." The only problem is that his arguments claiming the township is one of the safest communities in Michigan is based on crime statistics, not sensible national fire and emergency medical response standards.  Maybe this is one reason Price failed to show at some recent important debates and face his lone challenger whose mantra is to re-build the fire department to safe levels and re-open the fire station that serves the largest number of residents in the township.
Price tried to quiet his critics to an extent, not with reasonable solutions and patience, but with fostering a proposed anti-bullying ordinance that proved to un-constitutional and caused the attorneys of the ACLU of Michigan to issue an official warning to the trustees. Price reluctantly and temporarily tabled the matter.
To the best of intelligence the issues over the misappropriation of township funds collected from federal drug forfeiture money is still not resolved. In October 2015, under Price's watch, federal auditors dispatched from the federal Department of Justice formally reported that $1.9 million in equitable sharing funds received by the township Police Department and under the control of Edwards were finally accounted for but made 12 audit comments to their Criminal Division to address the findings and "…improve the management of the equitable sharing program activities in the township." The township police chief told federal auditors that Edwards withheld copies of bank statements associated with the program.
In November 2015 officials from the Michigan Department of Environmental Quality (MDEQ) were forced to meet with reluctant Supervisor Price and his newly-appointed Parks and Grants Manager Mike Mitchell, and cited environmental problems after Price and Edwards rushed work on a new park pavilion and the 4-acre, $719, 000, 209-car parking lot, impacting groundwater runoff and causing debris to enter the creek and pond. The cost of the 4,500 square foot pavilion originally sold to trustees by Edwards as an $85,000 project has grown to nearly $1 million. The parking lot, $900,000.
In June, a lawsuit filed by a self-described supporter of Price and funded by a dark money PAC, effectively removed Price's only challenger, Kurt Heise, and one other activist candidate, from the August primary ballot. The suit was later found to be associated with Ann Arbor attorney and political associate of Price, Stu Sandler, reportedly Price's campaign manager.
Last October, Price engaged former Attorney General Mike Cox and his law firm in a years-long losing battle to retain Detroit land that was ordered returned to the city by a State Court of Appeals. Cox, a high-ranking Republican Party leader and known political associate of Price, racked up $85,000 in legal fees in a brief, failed attempt to move the case to the Michigan Supreme Court. Informed sources say Price has vowed to keep Cox onboard to fight the City of Plymouth in an ongoing dispute over past fire department legacy costs.
Price may have approached the supervisor's job with good intentions but he has not demonstrated the key elements of leadership, honesty, integrity or wherewithal to effectively perform the duties of that office. He has taken the path of least resistance and closely followed the role dictated by Edwards, a deceitful man determined to avoid the will of the people at any cost.
These two men do not belong in township hall. We strongly urge voters to take the time to write-in Kurt Heise for supervisor and vote for Mark Clinton as treasurer and Jerry Vorva as township clerk.
Plymouth Voice.