Resident sues Plymouth Township over water bill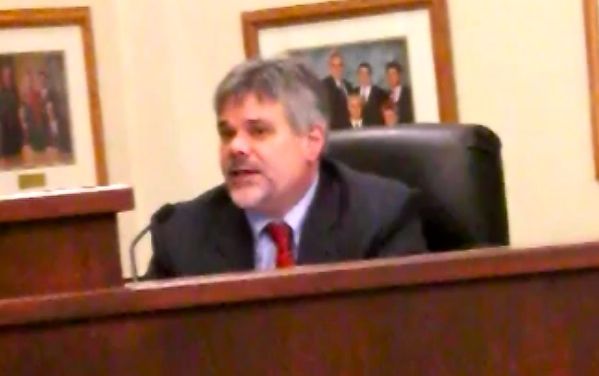 Kevin Bennett, Plymouth Township attorney provides consultation at recent Board of Trustees meeting.
Feb. 5, 2015  PLYMOUTH EAGLE.
Plymouth Michigan News
Don Howard
Staff Writer
A Plymouth Township resident said he has been forced to resort to the court system to settle a dispute over his water bill after a faulty meter created what he described as a 200,000-gallon error.
Romeo Savoy, who lives in the Trailwood subdivision, said he was shocked to receive an invoice for 261,000 gallons of water, enough to fill 10 swimming pools, at a cost of more than $2,000 last year.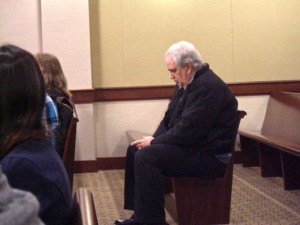 Savoy said he felt he had no recourse other than the court system after township officials and township Treasurer Ron Edwards refused to settle the matter. Savoy said he offered to pay half the disputed amount to avoid further action but his attempts were refused by Edwards.
Savoy filed an affidavit and claim in the Plymouth District Court last August to recover $2,152, the amount the township said he owed because of a water leak. Shortly thereafter, township attorneys filed paperwork with the court demanding a formal hearing before a judge, a step necessary to provide Edwards, the named defendant, legal representation in the matter. Edwards, as the township treasurer, is responsible for collection of residential and commercial water bills.
Savoy, Edwards and Plymouth Township attorney Kevin Bennett were in the 35th District Court last Wednesday before Judge Ron Lowe when Savoy, also an attorney, said he informed the court that he wanted a jury trial.
Savoy claims he previously met with the two township technicians who replaced his water meter, their supervisor and water board official Mary Bruce, who is also named in the suit. All were insistent "the problem was caused by a water leak," he said. Savoy said when he took the matter to Edwards, he was told, "No. You have to pay the whole thing."
Savoy represented himself at the court hearing.
"I have no recourse, I paid the entire bill, $2,800," he said. He said he again presented an offer to Bennett in the courtroom to settle for $1,500.
After a brief break in the court proceedings to confer with Edwards, Bennett returned and told him, "We're not out to get our citizens," Savoy said.
Court records show Lowe, who adjourned the hearing for one month to allow the township to investigate the cause of the abnormal bill, ruled Savoy may file an order for a jury trial after the township completes the investigation into the cause of the charges.
Lowe scheduled a settlement conference among the parties for March 4.
"I just want my money back," said Savoy.
Bennett was not available for comment.
Plymouth Voice.