Plymouth crews clear streets in record time-after record snowfall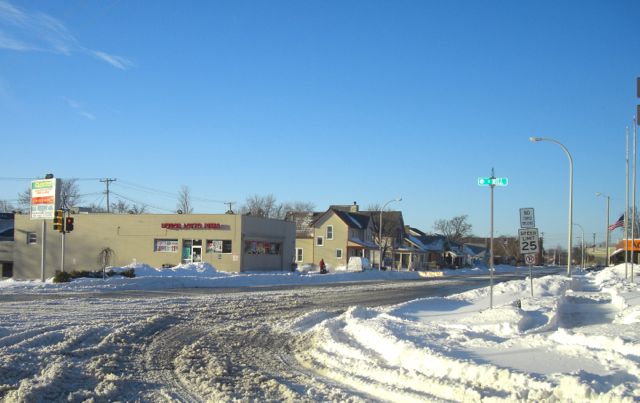 Plymouth, Monday, 9 a.m., February 2, 2015, Main and Mill Streets
Feb. 3, 2015  PLYMOUTH VOICE.
Plymouth Michigan News
Job Well Done
Last Sunday when City of Plymouth officials declared a snow emergency beginning at 11:00 p.m. advising residents not to park on streets during the overnight hours to expedite the plowing, they knew the forecasted snowfall could end-up being a big one, but not quite the record 12 to 16 inches that fell across southeast Michigan, yet they were prepared and ready. They had eight trucks and a full crew ready to roll.
Municipal Services Department crews worked around the clock and by 9:00 a.m. Monday they announced their completion: all major city streets were plowed, salted and clear. That was not the case in surrounding communities. Because Plymouth covers only two square miles they had the advantage.
The snow emergency remained in effect throughout the entire day on Monday as the crews continued working on residential sides streets. On Tuesday morning the city called in heavy-duty equipment to remove the huge snow piles from the business district and at critical locations.
Plymouth Voice.