Relief in sight as Whitmer ends Stay-at-Home order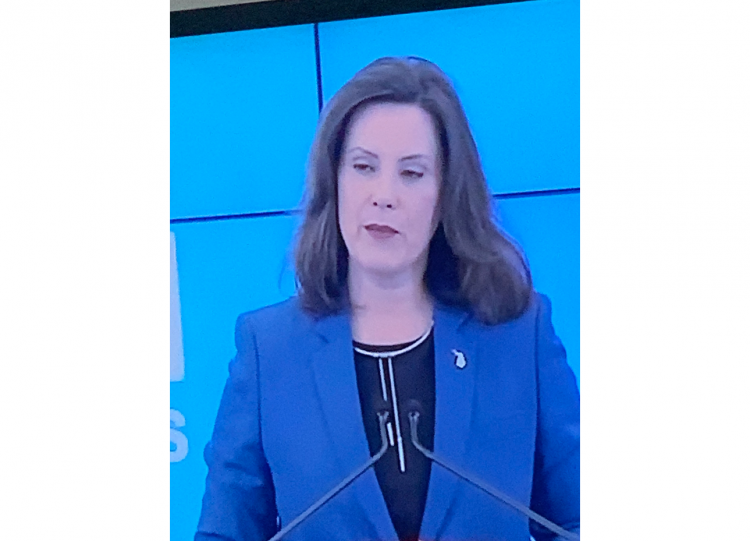 Jun. 2, 2020  PLYMOUTH VOICE.
Plymouth Michigan News
Finally, some light at the end of the dark tunnel that crippled residents and local businesses since mid-March when Gov. Gretchen Whitmer issued the first of her many executive orders over concerns about the COVID-19 virus.
According to the latest order from Whitmer, effective immediately residents are allowed to travel anywhere in the state and can gather outdoors in groups of up to 100 people, provided they maintain 6-feet apart from one another. Retail stores across the state will be permitted to open for in-person customers on Thursday, but will be required to adhere to new capacity limits and safety protocols.
Of high importance to the Plymouth community, beginning June 8, all restaurant dining rooms and bars can reopen at half capacity.
The Plymouth City Commission recently passed a resolution that will allow restaurants to expand their outdoor seating into public areas, including the parking spaces in front of their establishments and adjacent alleyways. Commission members say owners will not be charged an additional fee to use these spaces and must purchase barricade jackets and submit an application to the City for approval. Establishments that serve alcohol will also need approval from the state's Liquor Control Commission.
Last week, Safe Salons for Michigan Coalition released an eight-step plan for reopening their businesses across the state. The coalition said in a release that data shows while Michigan salons remain closed under the Governor's latest executive order, salons in all other states have either fully or partially reopened, or has a reopening date established.
They are again asking Whimer to allow them to operate and apologize for disparaging beauty professionals while speaking at a press conference event on Monday.
"As if being closed wasn't impossible enough, Gov. Whitmer made matters worse by disrespecting Michigan's highly-trained licensed cosmetologist in saying that people can simply "Google how to do a haircut," said Kevin Lent, president of BAMFX2, LLC and member of Safe Salons.
Here's the Governor's list of what's open and closed as compiled by Bridge Magazine.
CLOSED, FOR NOW
Indoor theaters, cinemas and performance venues
Gymnasiums, fitness centers, recreation centers, sports facilities, exercise facilities and exercise studios.
Casinos (although some tribal casinos have reopened)
Amusement parks, arcades, bingo halls, bowling alleys, indoor climbing facilities, indoor dance areas, skating rinks, trampoline parks "and other similar recreational or entertainment facilities" and other businesses that involve "close contact of persons, for amusement or other recreational or entertainment purposes."
Businesses offering "non-essential personal care services" to customers, including hair, nail, tanning, massage, traditional spa, tattoo, body art and piercing services.
OPEN IMMEDIATELY
Leave home: Michiganders are no longer required to stay home whenever possible, a policy that had been in place the past 69 days.
Outdoor group gatherings: "Outdoor social gatherings and events are permitted so long as people maintain 6 feet of distance from one another and the assemblage consists of no more than 100 people," according to Whitmer's order. Indoor gatherings of more than 10 people remain prohibited.
Drive-in movie theaters: While police had moved to shut down some drive-in movie theaters in recent weeks, Whitmer said Monday that her new order allows them to operate legally.
Outdoor fitness classes: Whitmer's new order also allows for outdoor fitness classes, athletic practices, training sessions or games — "provided that coaches, spectators, and participants not from the same household maintain six feet of distance from one another at all times during such activities." Equipment and supplies should be shared "to the minimum extent possible" and should be frequently cleaned and disinfected.
Office work: "Office work that is not capable of being performed at home can resume, but you're still expected to work from home if it is possible," Whitmer said.
House cleaning: "House cleaning services and other in-home services can also resume," Whitmer said.
ALLOWED EVERYWHERE JUNE 4
Retail stores: While grocery stores never closed and other retailers were allowed to reopen by appointment since May 26, Whitmer's new order will allow all retailers across Michigan to open their doors to customers on Thursday.
Like shops in northern Michigan already allowed to reopen, retailers that reopen this week must comply with new workplace safety rules, including mandatory face coverings for staff and customers. Smaller retailers with less than 50,000 square feet can only allow 25 percent of their usual shoppers inside at any one time.
ALLOWED EVERYWHERE JUNE 8
Restaurants, bars and more: Restaurants, food courts, cafes, coffeehouses, bars, taverns, brew pubs, breweries, microbreweries, distilleries, wineries, tasting rooms, special licensees, clubs can reopen across the state on June 8.
But just like Up North, downstate restaurants and bars must limit capacity to 50 percent of their normal seating, require 6 feet of separation between tables, ensure employees wear masks and take other safety precautions. Buffets and salad bars must remain closed, which might make for an unusual experience at your local Old Country Buffet.
Outdoor swimming pools: While southeast Michigan and other communities have already announced indefinite closures of swimming pools, Whitmer's order allows local governments to reopen outdoor public pools by June 8. Outdoor public pools must limit capacity to 50 percent, and indoor swimming pools must remain closed.
Day camps: Day camps for kids can reopen June 8, subject to forthcoming guidance from the Michigan Department of Licensing and Regulatory Affairs. Overnight camps must remain closed for the time being. It's not immediately clear when that guidance will be issued.
Libraries and museums: Libraries and museums may reopen June 8 but must adhere to workplace rules already released for retailers. That means capacity limits, mandatory masks and other safety protocols.
REQUIRED AT SOME RETAILERS JUNE 15
Bottle returns: Bottle deposit returns, suspended since late March, will also partially resume June 15 under a phase-in plan announced Monday by the Michigan Treasury. Only retailers with dedicated facilities at the front of their store or housed in a separate area and processed by machines will be required to accept bottle returns on that date.
To avoid a huge rush of customers sitting on piles of bottles, retailers are allowed to limit deposit returns to $25 per day per individual, establish special or limited hours for bottle return facilities, limit the number of machines they use, periodically close bottle return facilities for cleaning and implement other procedures they "determine are necessary or advisable to promote safety and/or efficiency."
Plymouth Voice.