Art print aids nurses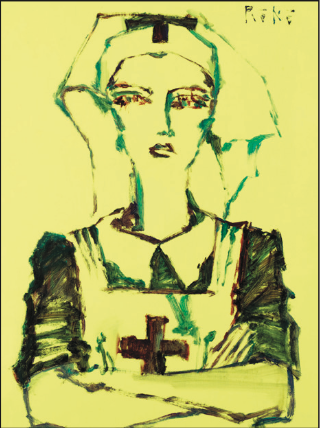 Jun. 1, 2020  PLYMOUTH VOICE.
Plymouth Michigan News
Renown Plymouth artist Tony Roko is offering a rare, limited-edition print of one of his latest works to benefit nurses at the Henry Ford Health System.
Roko, who founded
and operates the Art
Foundation in Plymouth
which offers art educ
tion and experience to
the most underserved
youth in the Metro
Detroit area, is one of the
best-known and honored
artists in the country. His
and his work is widely collected throughout the world.
While the print, titled The Nurse, is devoid of Roko's trademark vibrant colors, it is a unique example of his expressive skill.
"I wanted this to reflect the tone of the times and to match the current con- text," Roko said of the original painting.
The print was inspired, he said, by the courage and commitment of the health care heroes on the front lines of the COVID-19 pandemic.
"We can't thank Tony Roko enough for using his incredible artistic talent to not only highlight the selfless work of our nurses, but to also support them even further through our new Nursing Emergency Needs Fund," said Mary Jane Vogt, senior vice president and chief development officer of Henry Ford Health System.
"This fund will help provide the vital resources our nurses need to be at their best each day in caring for our patients."
The signed, 16-inch by 20-inch prints are available for a $100 donation and can be ordered at info@artofroko.com.
Plymouth Voice.