Plymouth Farmers Market open for business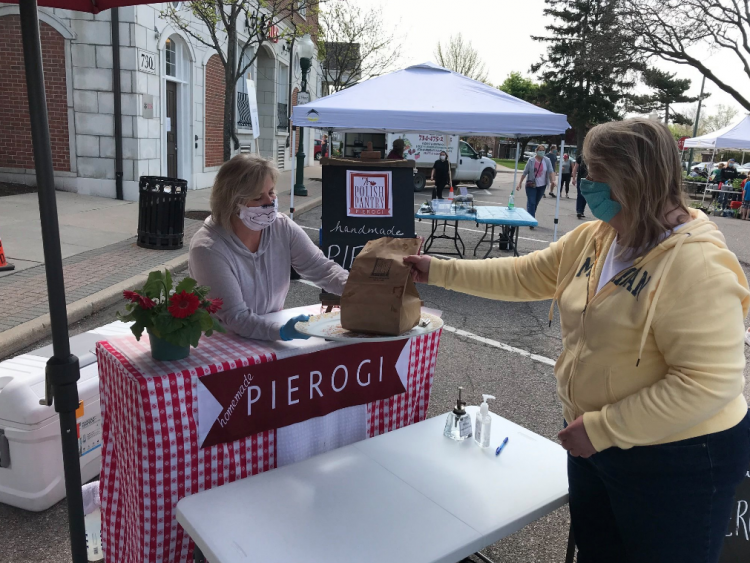 Jun. 1, 2020  PLYMOUTH VOICE.
Plymouth Michigan News
Plymouth Farmers Market is open for business
The ever-popular Farmers Market is held in downtown Plymouth's Gathering Place across from Kellogg Park every Saturday morning through October 24,from 8:00 a.m. – 12:30 p.m.
The Farmers Market will be closed on the Saturday of Plymouth Fall Festival, September 12. As an open-air market, facemasks are not required but recommended.  Social distancing will be followed.
Mark Prielipp Farms Greenhouse
produce, plants, cornstalks
517-451-0022
www.mpgreenhouse.com
Wind Crest Farm
perennials, annuals, herbs, vegetable plants, hanging baskets
g4071r@aol.com
Barbara Prais
fresh and dried flower bouquets and pussy willows
wcfgho@aol.com
Gooseneck Coffee Co.
coffee beans, ground coffee, brewed coffee
info@gooseneckcoffee.co
www.gooseneckcoffee.co
Obstbaum Orchards
fruit, pies, baked goods, jam, honey, cider, cut flowers, garden items.
734-453-9346
Dave & Marlene Produce
variety of produce
Amanacory Children's Boutique
girls & infant dresses face masks
amanacory@yahoo.com
Heart
candles, soaps, jewelry, essential oils
sheila@hearttoheartblessings.com
734-218-4080
Cellar Door Bath Supply Company
handcrafted vegan soaps &
soy candles
hello@cellardoorbathsupply.com
313-408-3156
SEASONAL MARKET

(STREET VENDORS)

PRODUCT
CONTACT INFORMATION
Beyond Borders
breakfast burritos
734-259-8415
r55ap@hotmail.com
Norman Holtz
variety of produce and eggs
734-735-2463
norm12364@gmail.com
The Cheese People of Grand Rapids
variety of cheese
ordercheesepeoplemi.com
Juanitas Gourmet Salsa
chips & salsa
313-608-5134
arredondo.mario@live.com
Stella's Nuts
packed spiced nuts
508-740-7338

stellasnuts1@gmail.com

The Polish Pantry
homemade pierogi served at Westborn, Karl's Cabin, Honey Hole, EG Nicks
734-451-9889
Sweet Creations by Michele
vegan cupcakes, brownies, rolls, banana bread and granola
313-231-7630
Vera Kuntry Bakery
fruit pies, cookies, cinnamon rolls and breads
269-501-5152
kindredspirits44@yahoo.com
Crated Earth Farms
organic vegetables
734-545-0708
cratedearthfarm@gmail.com
Detroit Jamz – One Harmony Topical
jams, jelly, preserves
734-765-8064
marlenedavis123@outlook.com
Cinnful Snacks LLC
cinnful crunch variety pouches
248-660-7887
cinnfulsnacks@gmail.com
Happy Opossum Gardens
salad greens, micro-greens and mushrooms
Root to Rise Farm
variety of vegetables, greens, herbs – organic methods
roottorisefarm@gmail.com
Gaskill Family Farm
fruits and vegetables, unpopped popcorn, jam, honey microgreens
734-439-1225
gaskillfamilyfarm@gmail.com
Brady Street Bakery
assortment of baked goods
989-272-3980
bradystreetbakery@gmail.com
Golden Wheat Inc.
variety of breads, croissants and sandwiches – meat, cheese, tomato basil
text to 313-578-1639
Good Mood Food
quinoa brittles – peanut butter, vanilla almond, cocoa coconut
enjoygoodmoodfood@gmail.com
Sideoats Farm & Native Nursery
50 varieties of organically grown veggies (not certified) microgreens, 50 species of perennials, pasta
206-276-8364
sideoatsfarm@gmail.com
Mohr Farm
retail cuts of meat: Beef, Pork, Chicken, Lamb
517-673-1233
sales@mohrfarm.com
Black Sheep Northville
wooly tumblers
734-377-7689
lsparkman@blacksheepnorthville.com
Prairie Home & Garden
bird houses, bird feeders, planters, mailboxes, cedar chests
734-546-1907
WEEKLY MARKET VENDORS
PRODUCTS
CONTACT INFORMATION
Hall's Herb Gardens
100% naturally grown vegetables, fruits and herbs
248-277-0477
mkh110480@yahoo.com
hallsherbgarden.com
Strive Root
seasonal vegetables
Oberweis Dairy
milk/juice orders
vivian.friedman@oberweis.com
Flowers From the Garden by Karen
homegrown flowers stem or bouquets
734-306-3887
7th Street Boutique
clothing, hats, purses and garden art
734-748-4370
Sue's Floral Boutique
Silk/dried flower arrangements & wreaths
734-377-3497
suetauriainen@gmail.com
Note & Company
handcrafted soy candles
hello@noteandcompany
noteandcompany.com
Instagram @noteandcompany
Semper Fi Quilts
quilts, quilted table runners, wall hangings & T-shirts
734-395-4971
semperfiquilts@gmail.com