Protestors march in Plymouth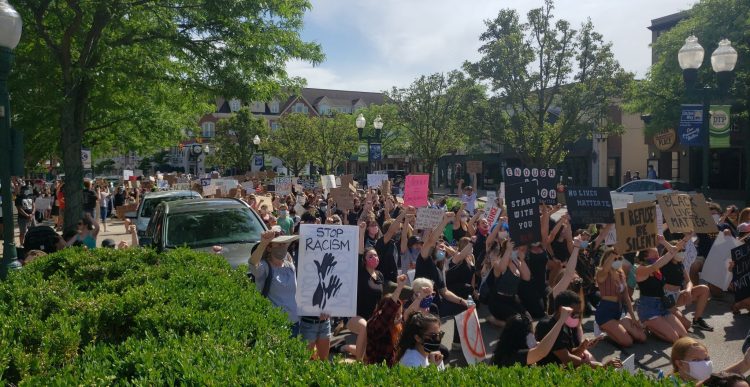 Jun. 4, 2020  PLYMOUTH VOICE.
Plymouth Michigan News
UPDATED
Don Howard
Staff Writer
While Gov. Gretchen Whitmer's latest executive order allows retailers across Michigan to open their doors this week, downtown business owners in Plymouth faced turmoil amid protests calling for racial equality as they prepare to reopen.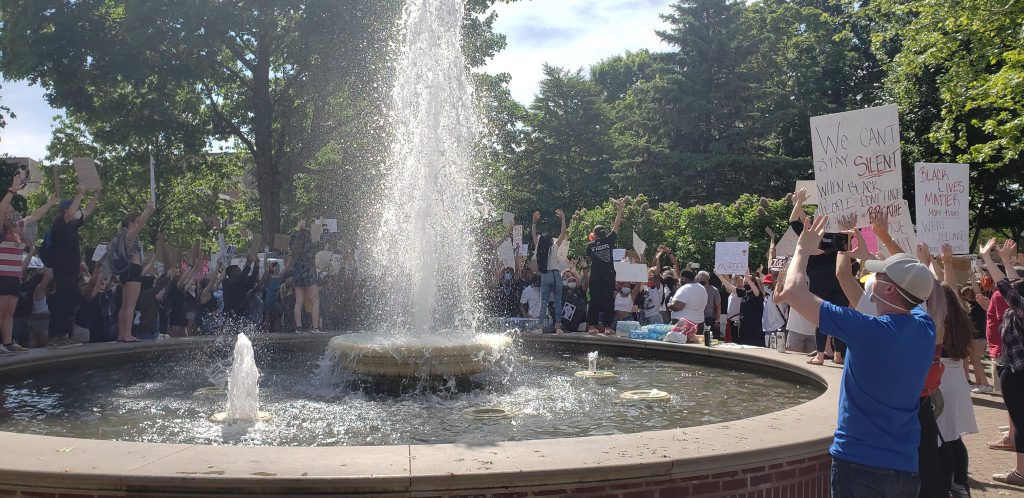 Civil unrest and racial protest spread to quiet downtown Plymouth on Wednesday afternoon when an estimated 500 people from around the Detroit metropolitan area assembled in Kellogg Park and marched down Main Street.
Chanting and carrying signs, the mostly young white protestors were non-combative, peaceful and orderly.
As protests continued in Detroit, across the state and nation after the killing of George Floyd, a black man killed by white policemen in Minneapolis, Whitmer called for police reform. Backing an anti-bias bill, Senate Bill 945, sponsored by Sen. Jeff Irwin (D) Ann Arbor, the Governor wanted all Michigan police departments to have enhanced anti-bias training. The Senate unanimously passed the bill, 38-0, on Thursday that requires all incoming law enforcement officers to complete the training. The bill now goes to the House and to the Governor for approval.
The proposal faced opposition from the Michigan Associations of Chiefs of Police and the Michigan Sheriffs' Association.  Officials argued before a Senate committee Thursday that training standards should be designed by law enforcement personnel and most of the training outlined in the legislation is already in place.
"The Legislature shouldn't dictate training standards for law enforcement. That job should go to professionals who work in law enforcement, and much of the training in the bill is already happening, said Robert Stevenson, executive director of the MACP.
According to the Washington Post, who began logging every fatal shooting by an on-duty police officer in the U.S. since 2015, police in Michigan has killed approximately 78 people, more than half people of color.
"The deaths of George Floyd, Ahmaud Arbery and Breonna Taylor were a result of hundreds of years of inequity and institutional racism against black Americans," Whitmer said in a statement on Wednesday.
Longtime Plymouth resident, Kathy Meik, now retired who lives in Northville Township, said she loves her city and community and wants to thank the people who keep her safe.
"I just wanted to thank every man and woman who work so hard to keep us safe. I respect you all. I have lived in Plymouth all of my almost 67-years and I love my city and community. It sickens me to see and hear how many officers are treated. I thank God that people choose to become officers of the law. I think all first responders should get a much higher pay for doing those jobs. Thank you all again."
Plymouth Voice.
Photos: by Matt Zmuda
Correction: An earlier version of this story mistakenly reported that George Floyd died in Milwaukee. Mr. Floyd died in Minneapolis.