Rebuilding of fire department under way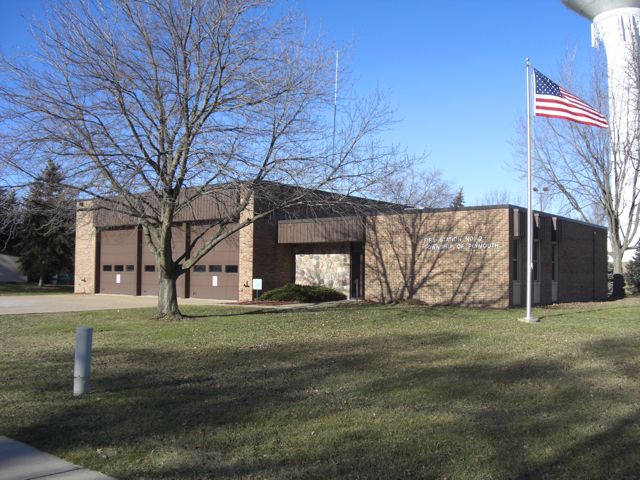 Lake Pointe Fire Station No. 2
Jan, 5, 2017  PLYMOUTH EAGLE.
Plymouth Michigan News
Don Howard
Staff Writer
A campaign promise to restore and rebuild the fractured Plymouth Township Fire Department is about come to fruition.
Township Supervisor Kurt Heise announced last week that he has instructed Fire Chief Dan Phillips to research and interview potential firefighter candidates and commence civil service examinations to fill at least six positions.
Heise said one of his priorities is re-open the permanently closed Lake Pointe Fire Station No. 2, something he pledged during his campaign last year.
Staffing at the Plymouth Township Fire Department has been the subject of much political machination and controversy during the past years.
During a special meeting of the trustees on March 1, 2012, board members, led by former Supervisor Richard Reaume, voted 6-1 to immediately lay off six firefighters, leaving a full-time staff of 12 firefighter-paramedics to protect 28,000 residents.
That decision was referred the same day to then Fire Chief Mark Wendel who was ordered by Reaume to immediately implement the layoffs. Wendel subsequently ordered the fire captain to inform the affected firefighters to leave their stations at once. The firefighters were told that arrangements would be made for them to retrieve their personal belongings from the station at a later time.
The next day it was reported that flyers were posted throughout the Lake Pointe subdivision announcing the closing, which left more than 900 residents in what many described as "injurious jeopardy."
The flyers, likely created by the union firefighters, announced that there "is now a maximum staffing level of five firefighters to cover the entire township."
Township officials and board members defended the action as "right-sizing" and "fire reform."
Former Township Treasurer Ron Edwards-who had long before usurped control of the fire department–was embroiled in a contract settlement dispute and union arbitration with the firefighters at the time. Edwards claimed the layoffs were made necessary by a financial hardship created by the City of Plymouth's withdrawal from a long- standing inter-local fire service agreement. Township officials, led by Edwards, claimed the termination of the inter-local agreement resulted in a reduction in revenues to the fire department approaching $1 million.
Many residents and firefighters claimed that the layoffs were retribution by Edwards for the support many firefighters expressed for his opponent in a political campaign.
As the layoffs and staffing reductions became public, Reaume distributed a newsletter to residents in which he stated, "The safety and security of everyone in Plymouth Township is our highest priority. You will continue to receive the same high-level, round-the-clock fire and paramedic service that you have always received." According to the newsletter his reason for closing the Lake Pointe station was, "the majority of calls for medical assistance came from the assisted living center," a reference to the 200-unit major senior residence Independence Village, located on Northville Road near Five Mile.
In the aftermath of the 2012 layoffs, Wendell broke Reaume's gag order and publicly decried the lack of manpower and described the broken-down, aged equipment and worn out vehicles the department was forced to utilize.
Wendell stated he could longer effectively manage a fire department where the workload had increased by 400 percent while working with only 12 firefighters. Later, under public pressure from Wendel's disclosures, township trustees approved the hiring of several part-time, paid on-call firefighters to work peak hours, many of whom have now resigned and moved to other departments to work full-time.
Heise who said he is determined to rebuild the department as soon as possible was reluctant to provide a specific timetable, stating his plans are dependent on the support and approval of the board members and working with existing funds.
"My first goal is the get the staff properly equipped and make the department fully operational," Heise stressed.
"This fire department had been deliberately downsized for years. It's taken years to get into this position with the old and broken down equipment," he added.
"We now have Station 2 back under our control," Heise said during an interview last week, explaining that the township has fire apparatus now parked and occupying the yet unmanned station.
For the past few months, during road construction work for I-275 and Six Mile Road, Northville Township Fire Department rented space and assumed occupancy at Station 2 with a special occupancy agreement fostered between former Northville Township Public Safety Director John Werth and former Plymouth Township Supervisor Shannon Price.
At the time of the initial fire department layoff turmoil, Heise, a former state representative, was acting as attorney of counsel to Hemming, Polaczyk, Cronin, Witthoff, and Bennett, the legal firm representing the township.
"We've inherited a legacy of an understaffed, poorly-equipped department. It doesn't get rebuilt overnight," Heise said.
Plymouth Voice.