Power problems confound DTE Energy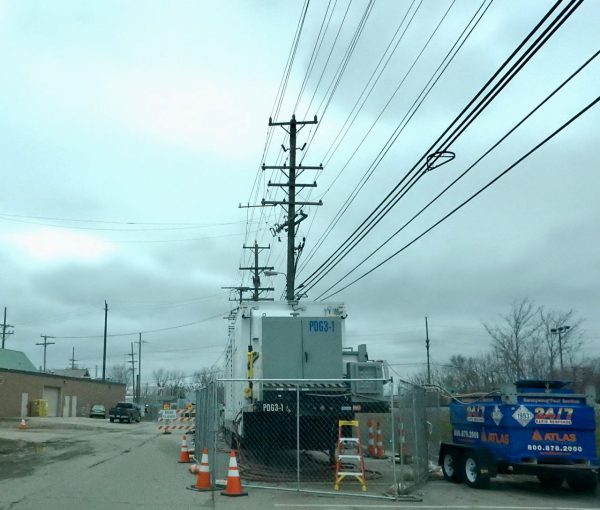 DTE has a portable generator and transformer lined up on Theodore Street
Apr. 17, 2018  PLYMOUTH VOICE.
Plymouth Michigan News
Don Howard
Staff Writer
After an ice storm and high winds caused major power failures in southeast Michigan last weekend that left over 300,000 customers in the dark, Plymouth residents suffered another blow on Tuesday afternoon when a power failure struck about 3:00 p.m.
Emergency DTE crews responded to what they called a "tripped out portable transformer" at the Farmer Street substation. Workers and supervisors at the site said they had "no clue" as what happened nor how long the outage would last. They said the outage "…may have been caused by overloads." Adding crews were working diligently to resolve the problem.
At the same time, City officials reported that many traffic signals were out of service downtown along with multiple power outages throughout the city. Officials said the power was restored after 4:00 p.m. when DTE made "temporary repairs."
A massive explosion and fire that rocked Plymouth's Old Village in August 2017 destroyed the substation and left 4000 area residents and business in the downtown area without power for two to three days. Days later workers in protective gear were observed cleaning up debris at the site of the fire and shoveling it into sealed barrels labeled as containing PCB, a known carcinogen. DTE denied there was ever any danger to residents or firefighters.
A recent DTE news release reported their progress re-building the substation.
DTE Energy is working seven days a week to finish rebuilding its Plymouth substation following last summer's fire. The transformers are expected to be completed in May; additional work on underground cables and the substation building will continue into the summer. More than 90 percent of the previous equipment is being replaced with best-in-class, modern equipment that is designed to operate for 40- to 60-years. This includes new transformers, breakers and switches…"
Plymouth Voice.
Photo: Don Howard/Associated Newspapers