Power outages – flooded streets after storm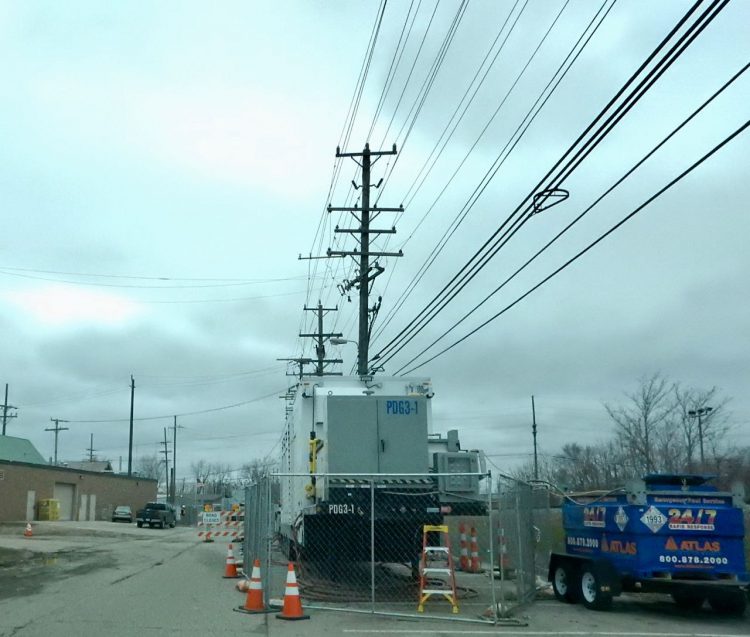 Jun. 29, 2021  PLYMOUTH VOICE.
Plymouth Michigan News
UPDATED
Once again on Tuesday Plymouth area residents were without power when an afternoon rainstorm wiped out service to an estimated 50,000 DTE Energy customers. Plymouth and Plymouth Township in particular has suffered numerous distribution-related outages and repeatedly lost power in the last month.
At  6:00 p.m., DTE reported 49,707 metropolitan customers were in the dark as scatted outages crippled the utilities infrastructure. Of those area customers affected, 2,941 were located in Plymouth, Plymouth Township, Northville, Northville Township and Novi.  
Former Plymouth Township Trustee Jack Dempsey addressed residents concerns to the Michigan Public Service Commission (PSC) in 2018 as they were set to review the five-year distribution investment and maintenance plans for DTE Electric, Consumers Energy and Indiana Michigan Power. Dempsey maintained the DTE distribution system was unable to provide reliable and safe service as required by law during large storms and weather events.
….
Record setting rainfall caused havoc this weekend when more than 6 inches of rain fell on area streets causing severe flooding. At one point storm water on Main Street between Ann Arbor Trail and Fralick crested the curbs as the city's old overloaded sewer lines bubbled upward. Low-lying sections of some streets were completely flooded.
DTE reported some 22,000 customers remained without power late Sunday, mainly in the Detroit area. DTE Energy is again in the spotlight for the frequency and duration of blackouts on its aging broken system-a fact mindful to the people of Plymouth and Plymouth Township who have suffered more than their share of power outages in the past few years, caused by wind, storms and equipment problems.
Gov. Gretchen Whitmer's office declared a state of emergency for Detroit and Wayne County. The declaration authorized the Michigan State Police, Emergency Management and Homeland Security Division to coordinate state efforts above and beyond what MSP/EMHSD has already been doing in conjunction with local agencies.
Plymouth Voice.