Fire at historic barn ruled 'accidental'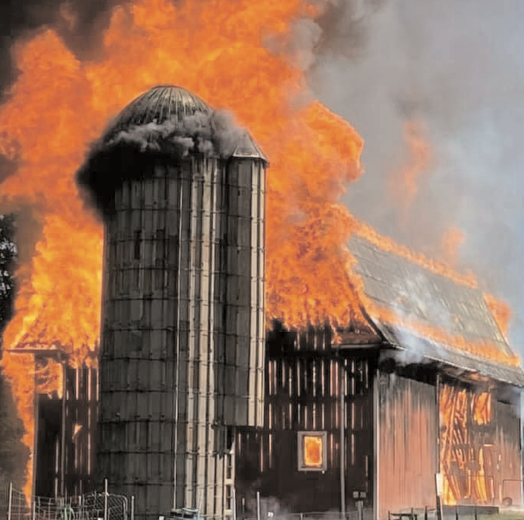 Jun. 30, 2021  PLYMOUTH EAGLE.
Plymouth Michigan News
An effort by a pre-teen and a teen to produce a social media post resulted in the total destruction of the historic Cady-Boyer Barn in Canton Township.
Investigators from both the Canton Township Police and Fire Department have determined that the cause of the 5 p.m. May 30 fire which destroyed the structure and severely damaged the adjacent silo was caused by a combination of the careless use of ground fireworks, specifically colored smoke bombs, and the burning of paper as part of the creation of a social media post by the minors.
In an update last Tuesday, officials said the social media post was supposed to capture images of burning cardboard and smoke bombs, but instead caused the destruction of the barn, originally built before the Civil War by David Cady, one of the first township supervisors. It was moved to the site at Preservation Park and reconstructed piece by piece by Amish craftsmen in 2006, funded by a donation from local businessman Bob Boyer.
The barn served as a museum and community gathering venue and was the site of the Farmers Market every Sunday and last month, a new pavilion was opened at the site.
Canton Township Police Services Director Chad Baugh said that the investigation into the blaze pinpointed two individuals, a preteen and teen. He said the families of the youths wee cooperating with law enforcement and that any punishment will include an educational, fire prevention component.
Fire Services Director Chris Stoecklein said the cause of the fire has been deter- mined to have been accidental. Fire Marshal John Oltman said the barn was not insulated and that oxygen flowing through the slats and cracks of the structure fed the blaze. There were no injuries reported in the fire, officials said.
Plymouth Voice.