Politicians' skirt candidacy plans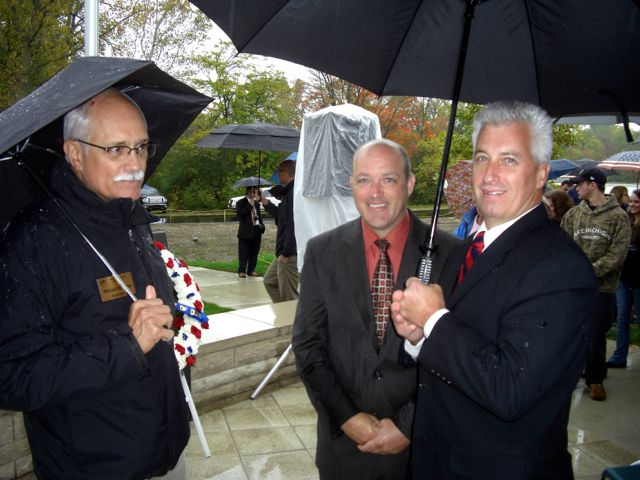 Plymouth Township Supervisor Richard Reaume, Wayne  County Commissioners Shannon Price and Richard LeBlanc, Dist. 12, at dedication of Hines Park Heroes Memorial, October 2013.
Jan. 13, 2015  PLYMOUTH VOICE.
Plymouth Michigan News
By: Don Howard
Staff Writer
Political hopeful and recently re-elected Wayne County Commissioner Shannon Price says he hasn't discounted a bid to become the next Plymouth Township Supervisor.
Amid the turmoil surrounding the township board of trustees where four members are facing recall and a possible May election, Price, a 11th District Republican, would neither confirm or deny his official candidacy during a recent constituent meeting at the Plymouth District Library. Price says he has a lot to consider before he would officially announce his campaign.
"A lot of people have talked to me about running." Price said, not specifically referring to the recall election.
With hints of the possible resignation or retirement of current Township Supervisor Richard Reaume prior to the 2016 supervisor race, two possible candidates are have emerged as veiled hopefuls, Price and State House Rep. Kurt Heise, R-Plymouth Township. Heise is in his third two-year term in state office and is therefore term limited in 2016. Rumors have circulated for months the two will compete for Reaume's position as supervisor. Reaume recently sold his township home and last fall purchased a condominium in Florida, fueling rumors of his pending retirement. He is living in a township bed and breakfast on Beck Road.
Heise responded to talk of his candidacy commenting, "It's something I'm looking at…"  Last year Heise said he would "not deny" he would like the job.
Price said he feels Heise, who he thinks instigated the most current news reports about the campaign, has prompted all the talk of his running.
"I'm not going to lie, Kurt Heise's ambitions rule my life."… "It's two years off," Price commented.
One resident asked Price at the meeting he was going to be a designed candidate by the Wayne 11th District Republican Committee. Mike Mitchell, Republican Party chair for District 11, is Price's legislative aid and was present at the constituent meeting. Mitchell didn't comment and Price didn't answer, but said he's constantly getting caught up in rumors.
Another resident asked if Price thought he could get along with controversial Township Treasurer Ron Edwards, if he were elected supervisor.
"If I was (sic) Township Supervisor, no one on the board would control me," he responded.
"I'm intrigued…I'd love it," Price said of the possibility of being the next township supervisor.  "A lot of people have asked me about running."
Plymouth Voice.