Plymouth's 90-year-old skydiver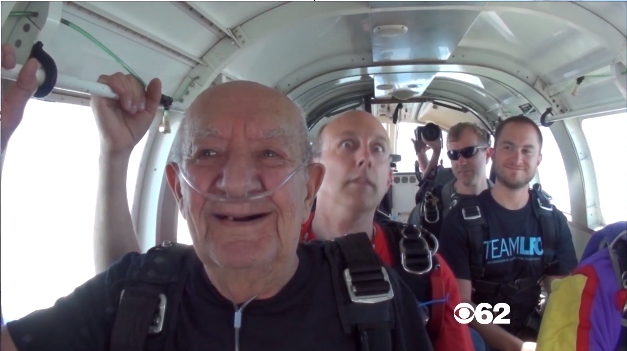 Jul 31, 2015  PLYMOUTH VOICE.
Plymouth Michigan News
WATCH VIDEO
Plymouth resident Leo Battaglia generated a lot of interest last month when he turned to skydiving to celebrate his 90th birthday.
With his family watching, Battaglia who has emphysema and must have oxygen 24-7, took a plane ride up 7500 feet with his grandsons. Battaglia was harnessed to a professional skydiver.
"I didn't feel any sensation of falling at all… It just felt like I was flying through the air." Batttaglia said with big smile.
"It seemed to last quite a long time, but I think it was only like 45 seconds that was free fall."
Smiling with thumbs up during the free fall and afterwards, said he'd do it again, anytime.
CLICK HERE TO LINK:
http://detroit.cbslocal.com/video/3267977-eye-on-detroit-90-year-old-sky-diver
Plymouth Voice.
Video link courtesy of  WWJ-TV WKBD-TV DETROIT