Plymouth man accused in retirement fraud scheme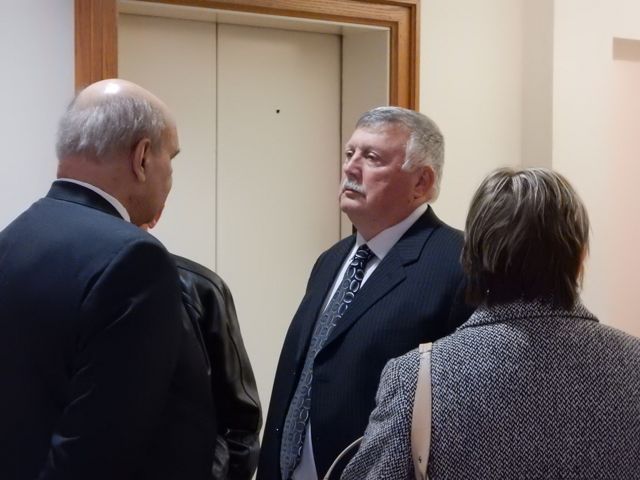 Former Wayne County Airport COO Daniel Kerber with his attorney in 35th District Court
Dec. 22, 2015  PLYMOUTH EAGLE.
Plymouth Michigan News
Don Howard
Staff Writer
Former Wayne County Airport Chief Operating Officer and ex-Wayne County Sheriff Deputy Daniel Ogden Kerber pleaded not guilty to charges of fraud at his arraignment last week before 35th District Court Judge Ronald Lowe in Plymouth.
Kerber, 66, a Plymouth Township resident who was the airport Chief Operating Officer under county executive Robert Ficano, faces a maximum penalty of 20 years after being charged with one count of larceny by false pretenses over $100,000 and one count of larceny by conversion of over $20,000, which carries a maximum penalty of 10 years in prison.
Kerber retired from the county airport in September of 200 and began receiving a monthly pension of $11,337.48.
"When Kerber retired, he had a separation agreement that specified that his defined contribution assets of $340,166, held by Prudential, would be transferred into the Wayne County retirement system," said Wayne County Prosecutor Kym Worthy in a prepared statement.
"It is alleged that on April 27, 2011, in violation of his separation agreement, Kerber contacted Prudential for a check for his Plan 5 funds. The request was approved by an employee of the Wayne County Retirement System. On May 5, 2011, a check, with income tax taken out, for $277,481.40 was deposited in Kerber's credit union account."
Wayne County Employee's Retirement System didn't discover the scheme until last April, four years after the fact.
Molly Kettler, assistant Wayne County prosecuting attorney, asked the court for a reasonable cash bond stating that Kerber had a home outside of Michigan and could be considered a flight risk. Kettler also requested that Kerber surrender his passport. Kerber has homes in Plymouth Township, Glennie and Sarasota, FLA.
Kerber's attorney, Jamil Akhtar, argued that Kerber was not a flight risk as he was a 30-year township resident and has, "a house one mile away from this courtroom."
Akhtar asked to be excused from the case saying he's a labor and employment attorney and asked for more time. Lowe agreed to a personal recognizance bond and set the dates for a probable cause hearing to Dec.18 and a preliminary exam on Dec. 28.
Lowe cautioned Akhtar about the court appearances, "Those two dates are rock solid. Better make sure an attorney is available on those dates."
Lowe allowed Kerber to return to his home in Florida, where he has lived for five years, under the condition he turn in his passport to the court.
"I'm not a trial lawyer." Akhtar said after the hearing. "I believe there are political motivations behind the charges. They're (the pension system) 100 percent funded.
"This has no effect on the mismanagement of the Wayne County pension plan," he said.
Akhtar, who referred to himself as a 40-year personal friend of Kerber, acknowledged that they both at one time worked for the Wayne County Sheriff Department. "Kerber worked for me…he was a sergeant and worked there until he was laid off."
A record search shows Kerber was at one time Deputy Director of Wayne County Airport Police. Akhtar's website states that before starting his law practice he worked for the Wayne County Sheriff's Department for 20 years.
"This case is the ultimate example of why the Wayne County Retirement System is not properly funded. The alleged facts in this case will show that the defendant's greed allowed him to net hundreds of thousands of dollars he was not entitled to, all while he received over $11,000 a month in a pension from the county," said Prosecutor Kym Worthy in her statement.
Plymouth Voice.
Photo: Don Howard/Plymouth Eagle