Plymouth Ice Festival opens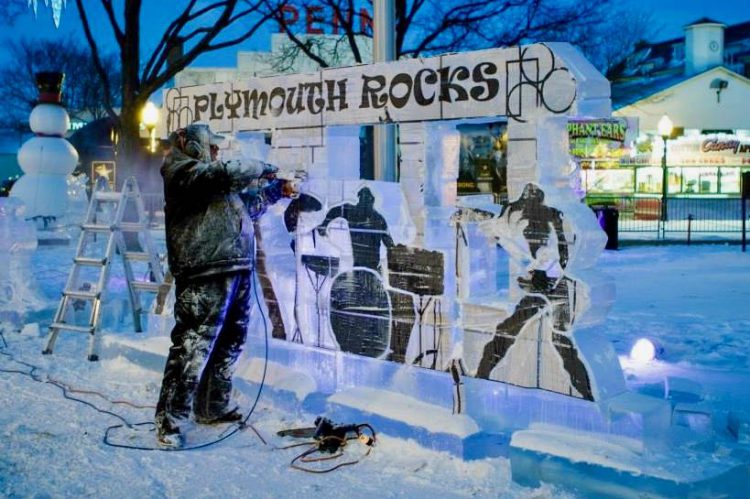 Jan. 11, 2019  PLYMOUTH EAGLE.
Plymouth Michigan News
The sounds of chain saws and snow-making machines were heard in downtown Plymouth today as preparations are well under way for the 37th Annual Plymouth Ice Festival that is now open and continues through Sunday.
James Geitzen of JAG entertainment which produces the event said that the only real concern is the weather, but some exhibitors and attractions have taken extreme measures to ensure that even Mother Nature can't interfere with the fun.
Sun and Snow will be making snow using machines round the clock if necessary for the cross country ski trail they install in Kellogg Park and the snow slide will use a synthetic product to make sure everyone has a good time.
This is Geitzen's fifth year at the helm of the event and the seventh year he has been involved in organizing and presenting the festival.
This year, he doesn't plan to make many changes in the Ice Festival, which continues to grow in both popularity and scope. The fan favorite attractions such as the Ice Playground, the DTE Energy Foundation Tubing Run, Fire and Ice Towers, and the Dueling Chain Saws Competition will all return. This year, a partnership with Michigan First Credit Union will bring a huge, 20-block sculpture to the event along with a petting farm and pony rides and DTE has sponsored the unique, 100-foot snow slide, which is always a huge crowd pleaser, Geitzen said..
"I enjoy the whole thing, I really do," Geitzen said. "I'm really pleased it is so successful and keeps just getting bigger and better and attracting larger crowds."
Last year the event drew nearly 100,000 visitors during the three-day weekend he noted and this year, he expects between 100-150 sculptures throughout downtown Plymouth to bring in an equally large crowd.
The annual Collegiate Ice Carving Competition, presented by Genisys Credit Union, will host two carving competitions, which will include participants from several Michigan colleges and universities. The individual competition will start at 10 a.m. on Saturday, Jan. 12. Competitors will have three hours to carve before their creations are judged by a team of expert ice carvers.
The ice-carving team competitions will take place beginning at 10 a.m. on Sunday, Jan. 13. Teams of two carvers will work together to build and sculpt their ice carvings.
The winners of each contest will be announced and receive trophies each day around 3 p.m.
One of the most popular family attractions of the festival, Geitzen said, is the Blue Care Network Cross-Country Skiing Zone presented by Sun and Snow. Seasoned professionals will explain the gear, help suit people up and give them the chance to experience a mini-winter wonderland on the cross-country skiing trail built in Kellogg Park.
Another highly-anticipated attraction of the festival, Geitzen said, is the Ice Playground. This interactive space is filled with games carved out of ice and numerous ice sculptures providing plenty of opportunities for pictures while children play in the ice.
He added that the festival wouldn't be complete for many local visitors without the traditional Party Lot behind E.G. Nick's restaurant on Forest Street, where there will be cold beer, drink specials, and live music. The Party Lot has become "The Place" to be for nightly entertainment – along with the ice bar in front of the restaurant where visitors can enjoy some Stolichnaya Vodka specialties.
This year will feature live entertainment by Smokin' Mirrors on Friday, Jan.12 and Power Play Detroit on Sat., Jan. 13
"We do a lot of festivals," Geitzen said, "but this one of my real favorites. It is a great time and a terrific excuse to get out in the cold and walk the downtown streets of Plymouth. This event benefits everybody, the visitors, the merchants, the community. Don't miss it."
(A complete guide to the Ice Festival attractions is included with this edition of The Eagle.)
Plymouth Voice.