PARC developers push for tax referendum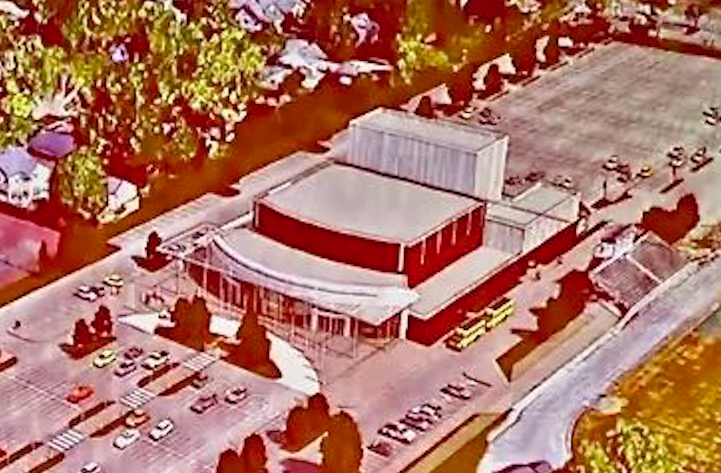 PARC rendering: Aerial view looking north on Adams Street – proposed $30 million, 43,245 square foot, 800-seat theater.
Jan. 29, 2018  PLYMOUTH EAGLE.
Plymouth Michigan News
"The theater is not that expensive."  PARC President Don Soenen
The first public forum concerning the Plymouth Arts and Recreation Complex (PARC) proposal to build a $30 million performing arts theater drew an audience of nearly 175 people last week.
The plan includes the renovation of the current building which was formerly Central Middle School on Main Street in downtown Plymouth and the construction of a new 800-seat performing arts center.
Several residents spoke during the public forum, almost all indicating support for the plan that PARC President Don Soenen described as "a unique opportunity."
"I think we have a unique opportunity to make Plymouth a focal point for the arts. We are right at the heart of that," he said in an earlier interview. "Good freeway access, restaurants, local and regional arts organizations really give us an opportunity to develop Plymouth into an arts community. It will make this community more attractive. It will increase the quality of life."
Soenen said 800 seats is optimal for the performing arts center, and there will be about 800 parking spaces.
"Parking should not be an issue," he said.
Soenen told the assembled crowd that residents would not pay for operating costs at the entertainment center. He said the group may ask for a 1-mill, 20-year tax to pay the construction and renovation costs, about $110 a year for the average Plymouth homeowner. No tax proposal has been created, Soenen said, and that action would involve negotiations with both city and township officials. He suggested that a board of directors might be appointed to oversee a special authority charged with writing the tax proposal.
The 16.6-acre site is near the Miracle League and Plymouth Cultural Center, which has an ice rink. "It really becomes almost a campus setting with the Miracle League, the Cultural Center," Soenen said. There are many uses, "all in one location. That's just unheard of in a downtown community."
Marsha Kreza, PARC marketing director, is also supportive of the performing arts theater.
"With the resurgence of the arts in Detroit, it's a perfect location. We've got the expressways here." She and others are working on "creative placemaking. With new people coming into Plymouth, we feel this would be good all around," including for business and real estate, Kreza said. "It serves a real need in the community, too."
PARC is drawing from Canton, Livonia and Northville, as well as throughout the region, Soenen said. Tenants will number 33-35 at capacity. Currently, there are 25 tenants at the facility, including artists, heater groups. Youth and adult recreation classes, culinary arts programs, the Michigan Philharmonic and classes from the College for Creative Studies based in Detroit.
He noted the Plymouth-Canton Steelers and Our Lady of Good Counsel youth football use the field, and have for decades. "I think we have to consider the impact to the community if PARC doesn't go forward," he said.
"We can only speculate what that might be." He emphasized the performing arts center is essential, and also acknowledges the building's major infrastructure issues.
Soenen cited Plymouth Township growth, including the Five Mile corridor. "We've had a major growth of businesses coming to our community. They look for these amenities. I think this'd be a huge asset," he said.
"The theater is not that expensive. The operating costs for the theater are not that onerous," said Soenen. "They do say all bets are off if we don't have the theater," he added referring to the independent business analysis done on the project.
"I think we're in a good position" with minimal opposition to PARC, Soenen said. His opinion was apparently validated at the forum when nearly every resident who spoke was in favor of the theater complex.
"This is truly a once-in-a-lifetime opportunity," said PARC Vice President Mark Malcolm, who with his wife, Patti, donated more than $3.5 million to save the PARC building from destruction. "By working together, we can leave Plymouth better than we found it," Malcolm told the forum audience.
A professional feasibility study indicated that the project is viable, Soenen said, and determined that renting space provides an income stream for PARC. Another study determined that the proposed entertainment complex would benefit property values.
"PARC will bring numerous long-term benefits to the Plymouth community, including quality of life and economic benefits," the study concluded.
If all goes as planned, the theater complex could open as early as 2020.
Special Writer Julie Brown contributed to this story.
Plymouth Voice.