Northville students join 'Kids Against Hunger' effort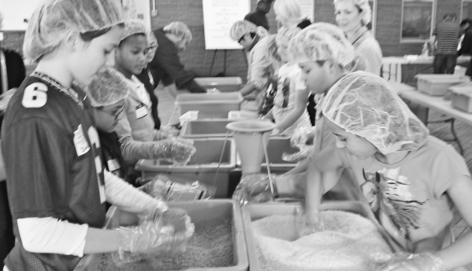 Mar. 6, 2013  PLYMOUTH EAGLE.
Students from Northville and inner-city Detroit are joining forces to learn more about world hunger and, most importantly, do something about it.
The students have joined the Kids Against Hunger Michigan Coalition "Michigan Project" and the Gleaners Community Food Bank Kids Helping Kids initiative.
Eight food packing events, which got under way in late-January and will continue through March, bring together elementary students from different experiences and cultures to work and learn side-by-side at Detroit area landmarks including the Arab American National Museum in Dearborn and Gleaners in Detroit, as well as the Jack Doheny Supplies warehouse in Northville.
In addition, students from two of Northville's larger elementary schools – Amerman and Ridge Wood – and their Detroit area partners will also take part in the Gleaners Kids Helping Kids initiative to ensure active participation by as many students as possible.
This marks the eighth year Northville and Detroit students are coming together to pack food for Kids Against Hunger, as part of a partnership with local non-profit organizations such as Bridgepointe, the Plymouth Kiwanis, the Conrad Charitable Foundation, Mothers' Club of Northville, and other local school and community groups. Local businesses sponsored the
Northville Kids Against Hunger and Kids Helping Kids events providing more than $7,000 to purchase the food and packing materials, cover shipping costs and/or pro- vide transportation to the packing events. These sponsors include: Gold Sponsor – Patti Mullen & Associates, Remerica Hometown One; Silver Sponsors – Grand Rapids Building Supply, Inc., and Durham Transportation Services; Bronze Sponsors – Clark Hill PLC; Tom Holzer Ford, Inc.; Stifel Nicolaus & Company, Inc. and Wright & Hunter, Inc.
During the Kids Against Hunger food packing events, students work together on an assembly line to measure, weigh and seal 13.8-ounce bags of nutritious rice-soy casserole mix that can each feed six adults or 12 children. One-third of the food from each packing event goes to local food banks to help those in need in the community, one third goes to feed the starving in Third World countries, and one third goes to help those in the U.S. and worldwide struck by natural disaster.
"Through experiences like Kids Against Hunger, students are empowered to make a difference in their communities and the world," said Bridgepointe Co-Founder and Kids Against Hunger "Michigan Project" Coordinator Sue Simcox. "Over the years, staff and students from these suburban and inner-city schools form friendships of sharing and learning as pen pals, through Kids Against Hunger, and by visiting each other's schools. They discover that although their experiences and cultures may be different, they still have a lot in common."
A key partner in the Kids Against Hunger events, Bridgepointe was founded in 1998 by Simcox and fellow Northville parent Diane Powers.
For more information about the Kids Against Hunger Michigan Coalition visit
www.kidsagainsthungercoalition.com or www.bridgepointenonprofit.org. To learn more about Gleaners and its Kids Helping Kids program visit www.gcfb.org.
| News Plymouth Michigan