Liberty Fest opens in Canton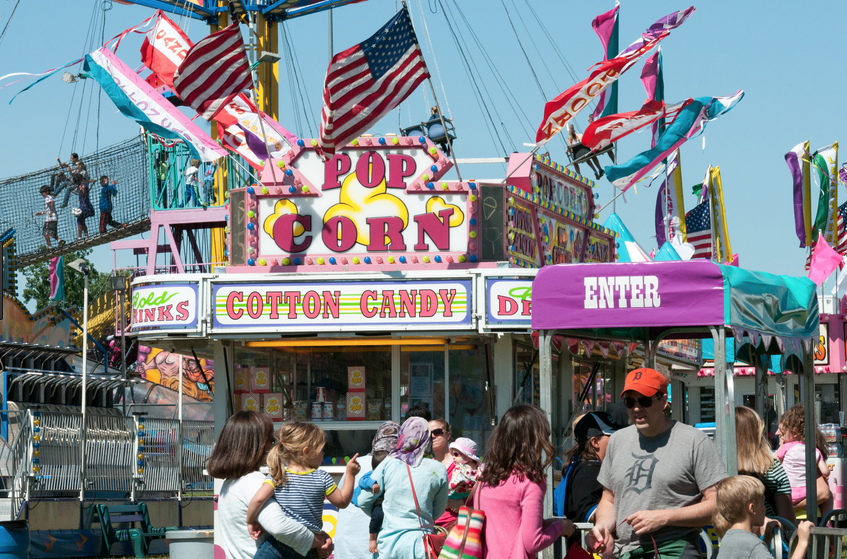 Jun. 15, 2017  PLYMOUTH EAGLE.
Plymouth Michigan News
Canton Liberty Fest returns celebrating its 26th anniversary with three action-packed fun-filled days from Thursday, June 15 through Saturday, June 17 in Heritage Park.
This year, the festival will take place from 1-11 p.m. Thursday, June 15, and Friday, June 16 and from 10 a.m. until 11 p.m. on Saturday, June 17. Major sponsors for this annual community event, include: American 1 Credit Union; Atchinson Ford; Community Financial Credit Union; DMC Children's Hospital; The Goddard School of Early Childhood Development; Motor City MINI; Sysco; Todd Wenzel Automotive; Twisted Rooster and The Village Dentist.
Visitors can enjoy an exciting lineup of carnival rides, games and special attractions. Carnival rides and games will fill the Family Zone. Wristbands will be available for purchase on-site for $25 on Thursday, $27 on Friday, and $30 on Saturday.
Special sensory hours are set for 1-3 p.m. Thursday when carnival rides and Midway games lights and music will be turned off for festival-goers with special needs. Also new this year, the Taste of Liberty Fest and the Adult Beverage Tent will be located near the Amphitheater. Satisfy your taste buds throughout the festival at the Taste of Liberty Fest, sponsored by Twisted Rooster, where participating area restaurants will present their local specialties and compete for bragging rights in a taste contest presided over by Canton Supervisor Pat Williams. This year, participants include; Cold Stone Creamery; Desi Indian Kulfi; LaShisho Palace; On the Border; Tom+Chee; Twisted Rooster; U.P. Pasties Co.; Wok Asian Bistro and others. Signature menu items from these restaurants will be available from 5-10 p.m. on Thursday and 1-10 p.m. on Friday and Saturday.
A variety of food trucks will be parked near the Amphitheater from 4-11 p.m. Friday. The tentative line-up includes: Cosa Sabrosa, Crepe De-Twah, Hero or Villain Van, Marconi's Pizza, Mito's Doner, Nu Deli, Pita Cruiser, Salt & Sugar Co., and Streetside Sushi.
On all three days of Liberty Fest, the Canton Rotary Club will be hosting an Adult Beverage Tent, which is sponsored by Liberty Street Brewing Company. The tent will be open from 4-10 p.m. Friday, and 10 a.m. until 11 p.m. Friday and Saturday. A selection of craft beers and hard ciders will be available. Festival- goers must be 21 years to purchase adult beverages.
The Annual Zumba Party will take place from 6:30-8 p.m. 6:30-8 p.m. at the Canton LIVE! Stage. Music and instructors will be on hand to participate in the Hawaiian Luau theme. Participants are asked to bring a water bottle to keep hydrated during the event. Entry fee is $5, cash only collected at the event.
Power Play Detroit performs at the Heritage Park Amphitheater starting at 7:30 p.m. covering favorite hits that the whole family will love.
Canton LIVE! Stage highlights on Friday include: A special appearance by Captain Barnacles and Kwazii Kitten stars of the television series The OctonautsTM as they explore the ocean in search of adventure and fun. The underwater duo will perform and meet them the crowds from 2-7 p.m. Friday.
Silver Sounds, featuring hits played by our favorite DJ will entertain from 7:30-9 p.m. and the Detroit Circus performs amazing feats of strength and acrobatics plus a fire show from 9-10 p.m.
Friday Amphitheater Stage entertainment will feature:
Plymouth-Canton Step Team performing from 2:30-3 p.m.; Big Time Cheer, an all-star cheer- leading squad performing energetic routines from 3-3:30 p.m.; SKULE, an educational non- profit with a mission and acronym to Spread Knowledge Using Lyrics & Entertainment, will perform from 3:30-4:30 p.m.; Seven to Zero, a popular local cover band, hits the stage from 5- 7 p.m. just in time for the dinner crowd and Emerging Soul will play favorite hits from Etta James to Bruno Mars from 8-10 p.m.
Also on Friday, the Annual Spaghetti Dinner is planned from 5 – 9 p.m., while supplies last, with proceeds from the dinner going to the Canton Firefighter Charity.
Saturday highlights include the 22nd Annual Pancake Breakfast, from 7-11 a.m. sponsored by the Canton Lions Club in the Heritage Park North Pavilion.
Other Saturday entertainment highlights, include: International Festival cultural performances and displays at the Canton LIVE! Stage from 11:30 a.m.- 6 p.m., presented by the Canton Commission for Culture, Arts and Heritage.
Boogie Dynomite will perform on the Canton LIVE! Stage from 8-10 p.m., presenting a variety of high-energy retro music.
Saturday Amphitheater Stage high lights include: Wine & Canvas, a drop-in paint 'n pour from 2-4 p.m., where 21 and over participants can enjoy an adult beverage in the beer tent and create a mini-canvas for just $5; Midwest Dueling Pianos will take the stage from 4-5:30 p.m., providing a unique brand of interactive entertainment; My Trivia Live will be offered to beer tent guests from 4-6 p.m., where participants can play some trivia with friends while enjoying some of the best music around; Weekend Comeback performs pop, rock, Motown, and more from 6:15-7:30 p.m.; and Crush, a Bon Jovi cover band, performs from 8-10 p.m.
Other Festival highlights for Friday and Saturday include: The H20 Zone, which will offer festival-goers a chance to cool off near the Canton LIVE! Stage with fun water attractions from noon-4 p.m. Canton warriors of all ages can test their Ninja Warrior skills on the Warped Wall and Obstacle Course from noon-10 p.m. Friday and Saturday; participants will get three attempts for $5 per person. There will be a special festival appearance from one of the stars of NBC's Hit Show, American Ninja Warrior.
Take a Walk on the Wild Side both Friday and Saturday and enjoy a unique wildlife safari experience provided by Oasis Animals
The fireworks show is planned for dusk Saturday. For more information, visit www.cantonlibertyfest.com or call (734) 394-5460.
Heritage Park is located adjacent to the Canton Administration Building, 1150 S. Canton Center Road, Canton.
Plymouth Voice.