HOT stuff! Chili cook-off returns Sunday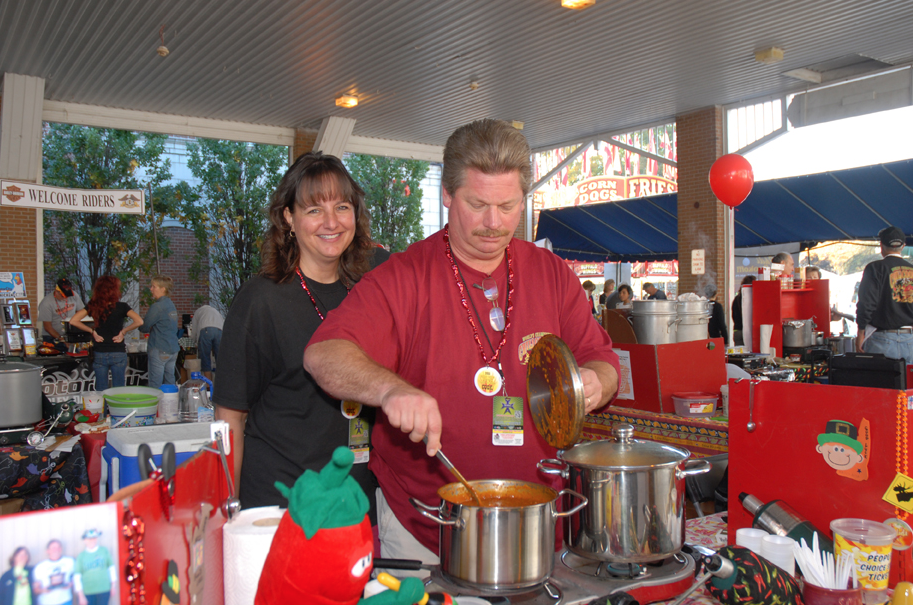 Oct. 1, 2013  PLYMOUTH EAGLE. 
One of the hottest events in the area will return to downtown Plymouth Oct. 6 when the 18th Annual Great Lakes Regional Chili Cook-off and Motorcycle Show roars into town.
Sanctioned by the International Chili Society, the event is also a fundraiser for Penrickton School for Blind Children and Habitat for Humanity.
The Chili Cook-off will feature a traditional Red Chili, a Green Chili and a Salsa competition.  This portion of the cook-of follows all International Chili Society rules.
"We are excited to have the Cook-off sanctioned by the International Chili Society, which is one of the largest food festival organizations in the world! Cook-offs just like this one have enabled the ICS to raise over a mil- lion dollars annually for charity," said organizer Annette Horn. The winners in each category will advance to the 2014 World Championship Chili cook-off next fall, she said. A fee is charged to participants wanting to try their best to create a winning pot of chili.  Top winners receive trophies and cash prizes. People's Choice Chili samples will be available at noon and competition samples at 1:30 and 3 p.m. for a $1 donation per sample.
The GLR Chili Bike Show is a ride-in show with 17 bike categories including Harley and non-Harley classes. There is a fee to enter a bike and all first place winners will receive a trophy with one lucky rider winning a Best of Show award.
The bike show will take place on Ann Arbor Trail at Kellogg Park from 11 a.m until 4 p.m., according to Horn.
There are two official charity Chili Rides, she said. Motor City Harley Davidson ride begins in Farmington Hills. Dick Scott's Classic Motorcycles ride begins in Livonia on Plymouth Road just west of Levan. A fee per rider will get participants V.I.P. parking at the event. Both rides are open to all bikes, Horn added.
The Restaurant Chili Challenge will be taking place from 11 a.m. – 5 p.m. in Kellogg Park. More than a dozen restaurants will be vying for the Best Chili in Plymouth award.
Visitors are the judges and will choose the winner. Bowls of restaurant chili will be $4 or $1 for a 2-ounce sample. The cost is a charitable donation.
Other activities planned for the event include music by Steve King and the Dittilies from noon until 5 p.m., dance team performances and a children's activity area.
Anyone interested in competing in the Red/Green/Salsa, or Restaurant Chili Challenge should contact Horn at (734) 776- 9669.
Event information/registration at www.GreatLakesChili.com
Chili Ride inquiries should be directed to Dick Scott's Classic Motorcycles (734) 542-8000 www.DickScott.com or Motor City Harley Davidson (248) 473-7433.
|News Plymouth Michigan
Photo: GreatLakesChili.com