Home town 'heroes" honored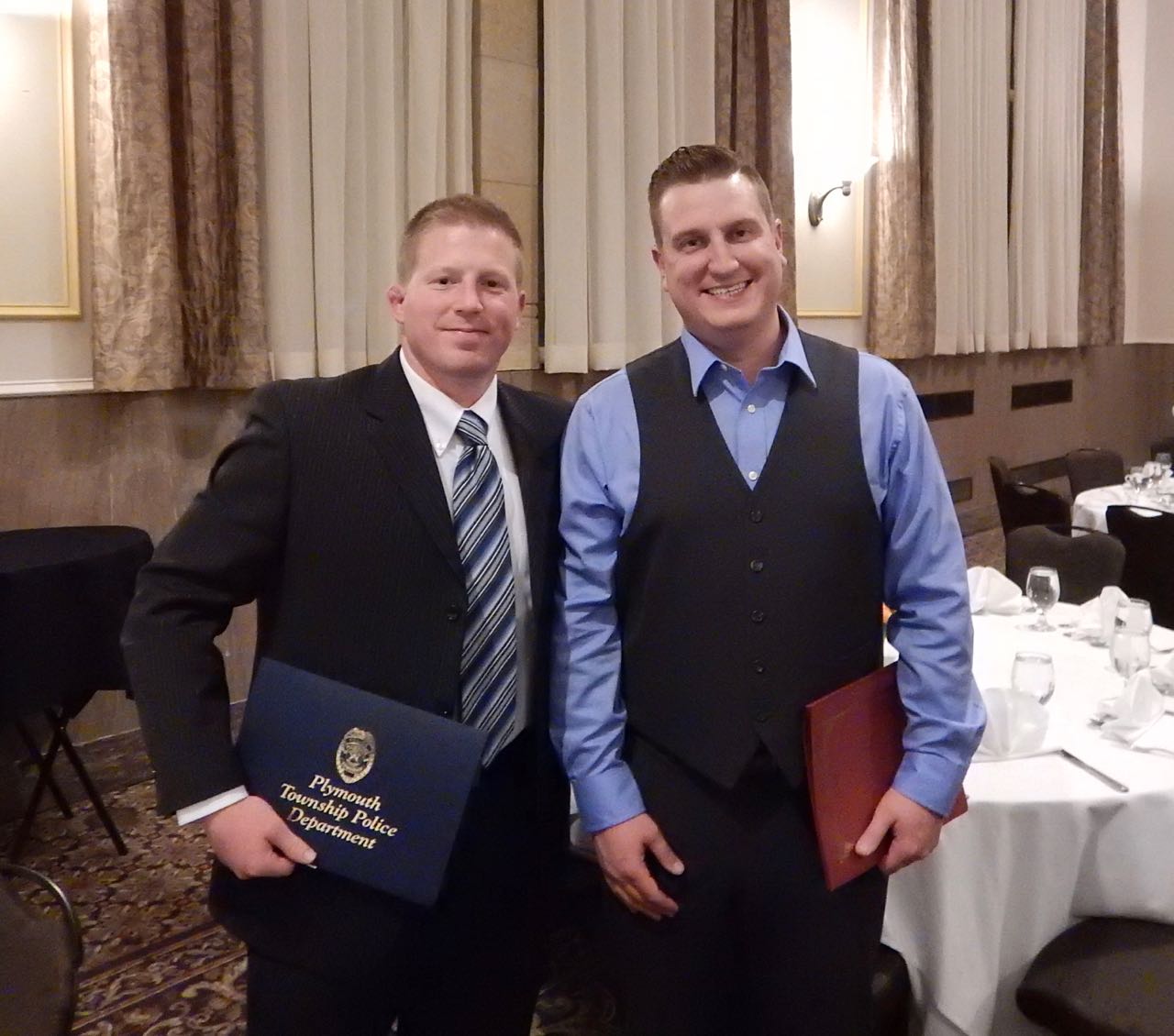 Plymouth Township honored Ofc. Brad Bartram, left, as Police Officer of the Year and Christopher Smith as Firefighter of the Year at an official ceremony last week.
Oct. 28, 2017  PLYMOUTH EAGLE.
Plymouth Michigan News
Don Howard
Staff Writer
Plymouth Township firefighters, police officers and civilian employees were honored for their heroism, dedication and years of service in the first-ever Plymouth Township Public Safety Appreciation Dinner last week.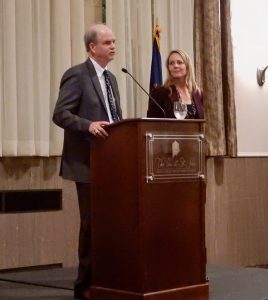 More than 150 residents, family members and local dignitaries attended the event at The Inn at St. John's in an effort to provide some long-deserved public recognition to the township heroes. The awards dinner was an effort fostered by the township Citizens Public Safety Council Chair Susan Bondie and the 10-member volunteer team.
"The police and fire are all one team. This is a team effort," said Police Chief Tom Tiderington.
Recent events across the country have drawn public safety into sharp focus, as first responders are in the news almost daily, officials noted. A new township administration took a closer look at the people and dedication which comprise the police and fire services and acknowledged the need to officially recognize the efforts of the public safety department, an official noted.
The event was supported and funded by contributions from local business like The Inn at St. John's, car dealers, and law firms along with the police and fire unions. "Tonight we join the folks like you who get up every day to protect lives, family and property," said Township Supervisor Kurt Heise.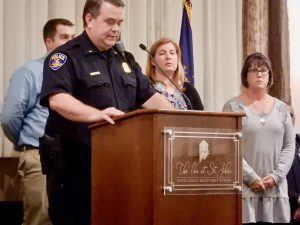 Tiderington and Fire Chief Dan Phillips saluted four retirees from the police department and three from the fire department. One police officer, Lt. Robert Antal, was leaving after 36 years of service, while retiring K-9 Ofc. Steve Cheston has served for 25 years. Retiring officers John Drake and Marcy Linton were also recognized. Linton was also honored with a community service award as was Police Service Aide Cynthia Fell.
Captain Charlie Mann, Lt. Rick Tefend and Cpt. Daniel Atkins retired from the fire department this year.
"The three retirees from our department represented a combined total 75 years of service to the township," said Phillips.
In addition to awards for life saving, merit, longevity and community service, the two chiefs paid tribute to the 18 fallen Michigan officers and 18 fallen firefighters in 2016 and 2017 with a moment of silence. Guests received traditional black wristbands with a "…thin blue line representing the thin line police officers walk daily between life and death. The thin blue line on black serves as a memorial for fallen officers," Tiderington explained.
Tiderington presented the Police Officer of the Year Award to Ofc. Brad Bartram.
"Officer Bartram is one of the select individuals who does a great job every single day and reflects on 99 percent of what a police officer represents."
Phillips presented the Firefighter of the Year Award to Firefighter Christopher Smith. "Firefighter Smith, 32, grew up in Redford Township and joined the U.S. Border Patrol in 2009. The township hired Smith in 2012 as part-time firefighter. Phillips said because of his exemplary service Smith was asked to join the fire department full-time in 2014.
"Firefighter Smith joined the Western Wayne County Hazardous Materials Response Team in 2014 and the Michigan Task Force One team in 2015. Smith is currently training as a Paramedic Instructor Coordinator and is responsible for developing the Plymouth Township CPR Citizens training program," Phillips said.
The Civilian of the Year award was presented to Cheri Gordon.
Life Saving Awards were presented to police officers Steven Coffell, Bryan Rupard, Jeffrey McPharland and aide Kyle Spaulding.
Retiring Captain Atkins received two lifesaving awards, and firefighters Mark Bonadeo, Pete Bukis, Christopher Haller,
James Harrell, Christopher Smith, Guy Villet, Doug Pickert and Ean Culver were also presented with lifesaving awards. Life saving awards also went to Lt. Christopher Mack, Lt. James Harrell, Lt. David Fox and Capt. Scott Gross.
Wives and families of the officers and firefighters were also recognized and honored with thunderous applause from the audience.
"We salute you, we respect you and we love you," said Heise in closing.
Plymouth Voice.
Photos: © Don Howard / Associated Newspapers