High winds stop survival flight-driver trapped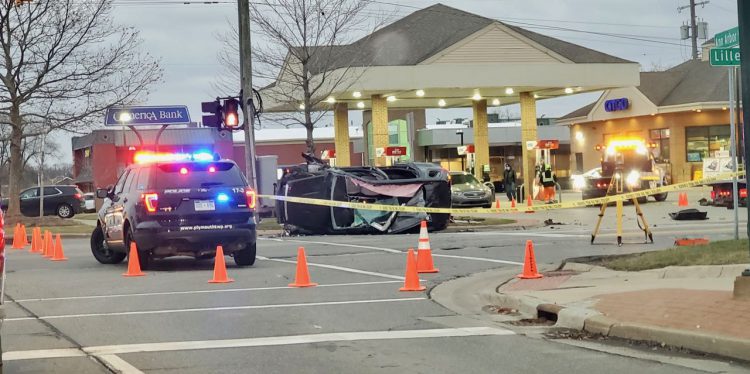 Dec. 31, 2019  PLYMOUTH VOICE.
Plymouth Michigan News
Don Howard
Staff Writer
Police and EMS workers were unable to extricate an elderly driver trapped in his car Monday afternoon for over an hour after a horrific accident occurred at Ann Arbor Road and Lilley in Plymouth Township.
Witnesses say the accident occurred when the driver's SUV, northbound on Lilley, struck a power pole, hit the curb – rolled over and wedged next to a sedan that was stopped at the light. Crews had to be able to move the sedan before they could reach the driver.
The impact took down power lines.
Plymouth Township Fire Chief Dan Phillips said Fire and EMS crews working to save the man summoned a survival helicopter from the University of Michigan Hospital but high winds prevented the medical crew from landing.
Aiman Mkachar, Manager of the nearby Citco gas station said citizens from a business establishment across the street immediately attempted to rescue the man along with the help of a police officer that was first on the scene. Mkachar said the men pulled open the doors but could not reach the driver because the top had caved-in on top of him.
After extrication, the man in critical condition was transported to a nearby hospital.
Plymouth Voice.
Gallery Photo: © Sean Rhesa / Associated Newspapers
Video:  Aiman Mkachar