Genealogy meeting set in Northville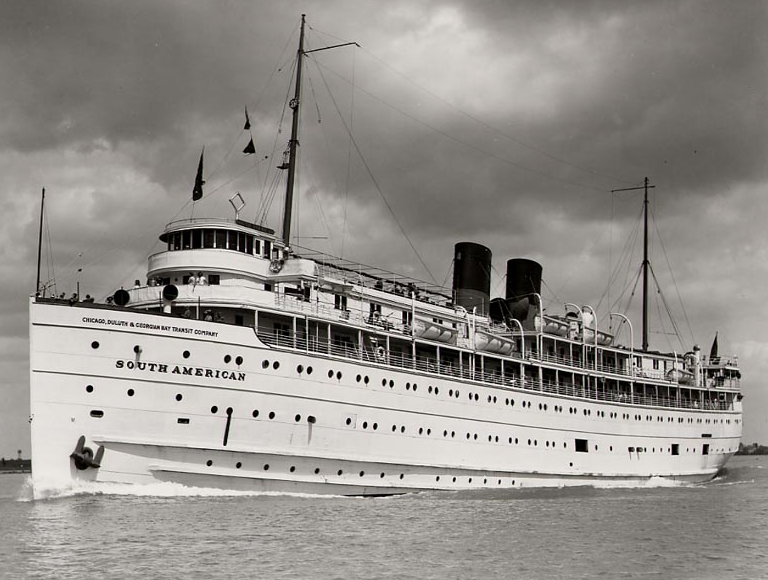 SS South American
Regular service to Buffalo, Cleveland, Detroit, Mackinaw Island, Duluth and Chicago. Circa: 1950's
Oct. 3, 2013  PLYMOUTH EAGLE. 
Joel Stone, senior curator for the Detroit Historical Society, which oversees the Detroit Historical Museum, the Dossin Great Lakes Museum, and a quarter million artifacts in the City of Detroit collection will be the guest speaker at the 1:15 p.m. meeting of the Northville Genealogical Society Oct. 13.
Stone's topic, Detroit River: Dynamic Maritime Highway, will include details of the history of the Detroit River which for the last four centuries has served as the primary artery for vessels traveling through the heart of the Great Lakes. The importance of maritime commerce made the river primary to Detroit's birth, growth and legacy. Early fur traders, naval fleets, immigrants, smugglers, vacationers, migrant birds, a fabulous fishery, and the city's booming manufacturing industries depended upon the river as a dynamic maritime highway.
The public is invited to attend the meeting free of charge at the Northville District Library, 212 West Cady, in Northville.
Individual help on genealogy is offered in the Local History Room at the Northville District Library from 1-3 p.m. Monday afternoons and also by appointment. For more information contact Mary Hazlett at (734) 459-5493.
|News Plymouth Michigan