Fire Department Explorers launch fundraiser-need help now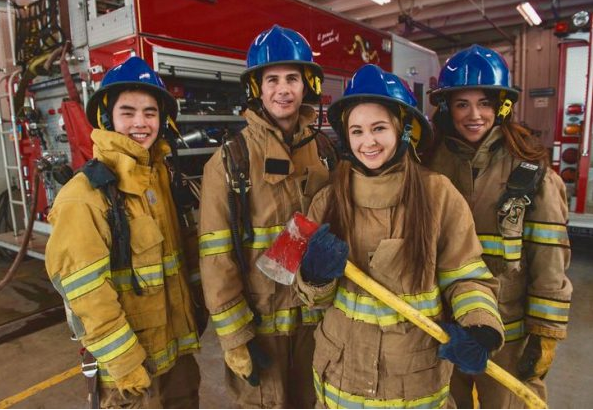 May 10, 2021  PLYMOUTH VOICE.
Plymouth Michigan News
The Northville City Fire Department charters and operates a Fire-Rescue Explorer program designed for young people ages 14-20 who are interested in learning about firefighting and EMS. Although the program is hosted by the Fire Department, financial support is derived almost entirely from private donations and fundraising. The members of Post 1717 would normally conduct fundraising  throughout the year, but last year and this year due to the COVID-19 pandemic community fundraising efforts proved to be an impossibility.
Fire department administrators say in order to continue forward the Post is in dire need of public assistance. Accordingly, they have created a "Go-Fund-Me "account on-line fundraiser. They are asking for donations in any amount and state the donated money will go toward the purchasing of badly needed new firefighting safety gear and equipment.
"For years, the program has been utilizing second hand and out-of-date protective "Turn out" gear that was graciously donated by various fire departments. All protective equipment has a limited number of years where it can be used safely and effectively. Having gear that is usable and safe will allow us to provide live fire training to the Explorers," reads a statement from their Facebook page.
The Fire Explorer Program is a community asset.
The Explorer program provides a safe educational environment for regional youth. The goal of the program is to help young people excel towards a fire career.  As an Explorer, young adults participate in hands-on training and learn about the basics of fire fighting and medical rescue.
Fostered by fire department personal they participate in tours to other fire facilities and engage in outings geared towards the fire service. Explorers share an opportunity to take part in "Fire Field Days" with other Explorer groups from Michigan and Ohio. The group usually meets twice a month.
The Post, established in 1994, chartered through Learning-for-Life's Explorer program, is a division of Boy Scouts of America and members of the National Volunteer Fire Council's National Junior Firefighter program and Fire Corps.
Because the City of Plymouth has a joint operating agreement with the City of Northville Fire Department for fire services the Explorer program is available to area residents in both communities.
To donate, visit their GoFund Me account