Work underway for $1.2 million park fountain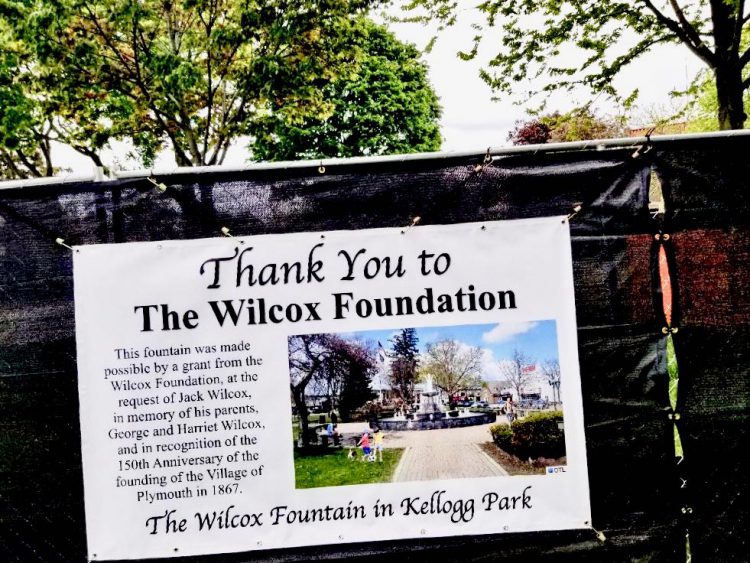 May 7, 2021  PLYMOUTH VOICE.
Plymouth Michigan News
Work has now commenced on the much-anticipated new Kellogg Park fountain, one year after the City of Plymouth and The Wilcox Foundation mutually agreed to delay the Wilcox Fountain Project due to the COVID-19 pandemic.
Members of the Downtown Development Authority (DDA) revealed initial plans and designs in April 2016. It was the hope of the DDA to have major upgrades to both the park and the fountain in time for the city's 150thanniversary in 2017. Input of the public along with comments regarding the plans was sought. At that time, DDA had selected the design team from Russell Designs of Northville and WESCO Fountains of Florida. Construction was expected to cost $1 million.
The Plymouth City Commission eventually reached an agreement to fund the new fountain at their March 2020 meeting.
Funding for the fountain construction and installation was made possible by a grant agreement between the city and the Wilcox Foundation in the amount of $1,170,449.10. Commissioners also authorized the expense of an additional $30,000 for the fountain project. The approved funding was in addition to the previous authorization of $20,000 in funding from the Downtown Development Authority bringing the city contribution for the fountain to $50,000.
According to a recent release from the DDA, demolition of the 50 year old fountain is now complete and general contractor Shaw Construction of Livonia is now working on site preparation and utility connections.
"This project has been a long time coming," said Mayor Oliver Wolcott. "It's only because of the generosity of the Wilcox Foundation that we'll be able to see it come to fruition."
Plymouth Voice.