Final Toast for gentlemen of the greatest generation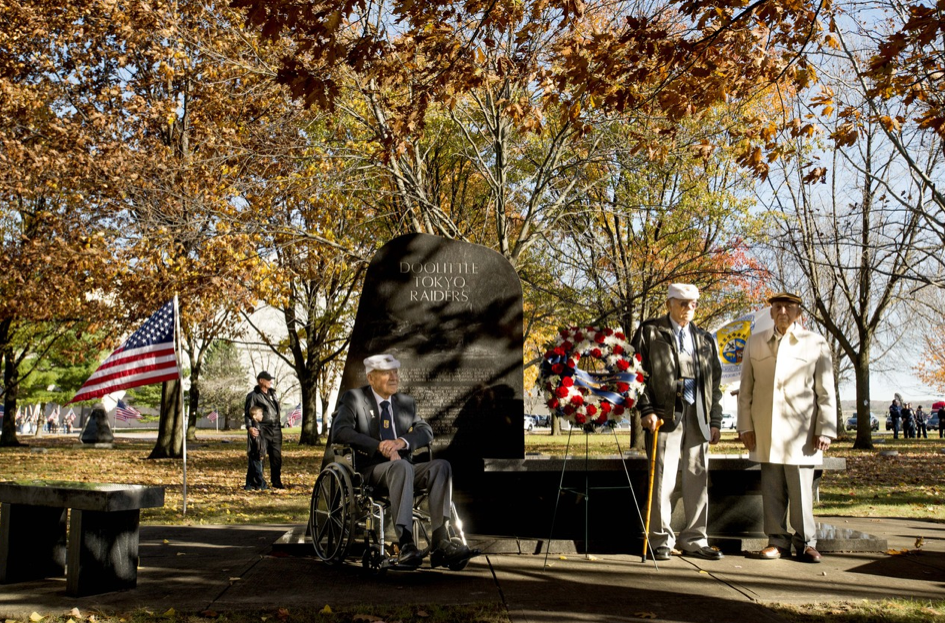 Staff Sgt. Thatcher, left, Lt. Col. Edward Saylor and Lt. Col. Cole stood in front of the Doolittle Raiders Memorial
Nov. 12, 2013  PLYMOUTH VOICE.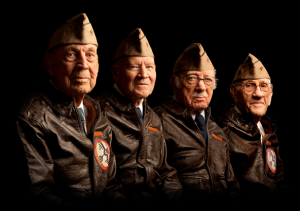 Three of the four remaining famed Doolittle Raiders, those who could still travel, met in Dayton Ohio at the National Museum of the U.S. Air Force on Saturday for a final toast to their comrades, a tradition they have maintained for 50 years.
The original 80 Army Air Corps fliers who made up the famed Doolittle Raiders, named after their commander Lt. Col. James Doolittle, conducted the first air raid deep into Japan during WWII on April 18, 1942.
Sixteen B-25 medium bombers launched from the carrier USS Hornet to conduct the first air raid. The raid successfully cast doubt on Japanese military leadership and was a tremendous boost to American morale back home. America had struck its first blow since Pearl Harbor.
Staff Sgt. David Thatcher, 92, retired lieutenant colonel Edward Saylor, 93, and retired lieutenant colonel Richard E. Cole, 98, lifted their goblets to sip their 117-year old bottle of Hennessy Very Special vintage cognac from 1896, the year Jimmy Doolittle was born, and to say good-bye to their decades-old tradition of gathering with their comrades to reflect on their contribution to American history. The fourth remaining Rader, Lt. Col. Robert Hite, 93, could not attend because of his health.
The revered World War II heroes lifted their goblets for the last time and drank from the bottle they have been safekeeping since it was first given to Lt. Co. Doolittle as a birthday present in 1956. As part of the ceremony, a traditional toast was held before a set of 80 goblets inscribed with the name of each Raider.
In 1959, the City of Tucson, Arizona presented the Doolittle Raiders with a set of 80 silver goblets. Each goblet was engraved with the name of a Raider. Every year a wooden display case bearing all 80 goblets was transported to the reunion city. Each time a Raider passed away, his goblet was turned upside down in the case at the next reunion.
Of the 80 Raiders, 62 survived the war. They were celebrated national heroes.
Semper Fidelis.
|News Plymouth Michigan
Credits: Wall Street Journal, War History On-Line