Fate of Central Middle School discussed by group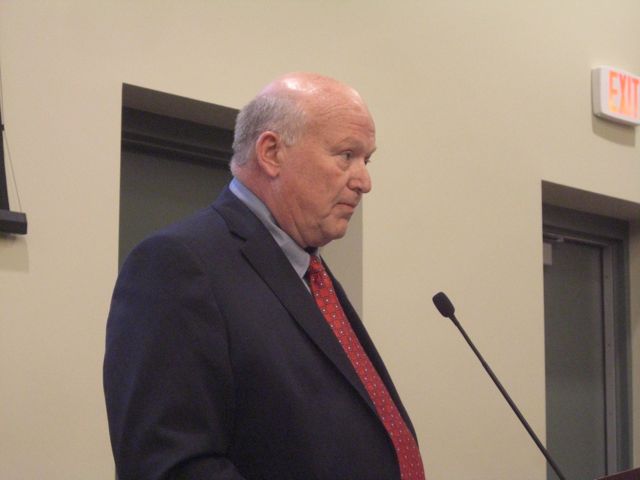 WATCH VIDEO – PARC Spokesperson Don Soenen appeals for support from Plymouth Township Board of Trustees at their November 12th meeting.
Nov. 14, 2013  PLYMOUTH EAGLE.
A grassroots organization formed to save Central Middle School drew a standing-room-only crowd at the 400-seat Penn Theatre last week.
The newly-formed Plymouth Arts and Recreation Complex Steering Committee (PARC) hopes to convert the Central Middle School property into a community- owned center for the arts and recreation activities and repurpose the surrounding green space. By July a steering committee comprising business people, residents and core members, Don Soenen, Bob Doroshewitz, Debra Modonna, Kurt Olsen, Mike Devine and Mike Alger, had met several times to create a mission statement, vision and key objectives for the project.
An intent audience listened Nov.4 as committee spokesperson Soenen detailed the plan with a slide presentation and drawings depicting proposed uses for the property that is centrally located in the heart of Plymouth.
Committee members are hoping the officials from the city, township and school district will cooperate and support an authority to own and operate the proposed complex, Soenen said.
Plymouth-Canton school officials, according to Soenen, are now conducting evaluations to determine the best course of action with regard to the Central Middle School property.
Members of PARC have been attending board meetings to ask school officials not to sell the property and to collaborate to determine the best use for the entire 18 acres.
School officials are now considering several options for the Central building which was once Plymouth High School, one which calls for selling the building for apartment or loft development, offices and retail space while retaining the athletic fields. The PARC committee has already made several presentations to board of education members and district administrators.
"Our mission is to convert the Central Middle School property into a community center for the arts and recreation that will offer quality cultural, educational and athletic enrichment opportunities for all citizens of the greater Plymouth Community," Soenen said.
Plymouth Mayor Dan Dwyer told the assembled crowd, "This is our chance to leave a legacy."
|News Plymouth Michigan