Explosions at the Boston Marathon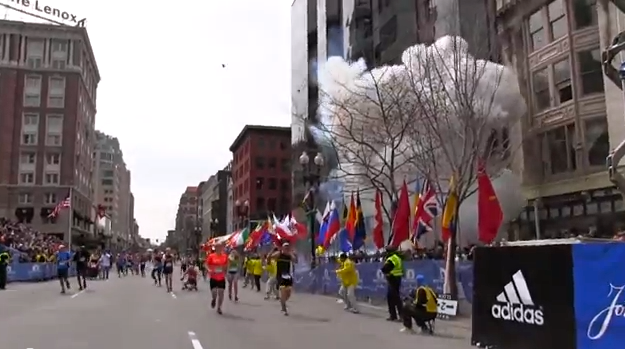 In the aftermath of tragedy that killed three and injured more than 175 during the Boston Marathon, reports of praise for the emergency medical workers, police, doctors, nurses and volunteers are overwhelming.
Like a fine tuned instrument, within minutes, professionals and first responders mobilized, triaged and treated victims lying on the street in a coordinated effort worthy of heroic acclaim. Below is a synopsis of a Wall Street Journal article filed on April 17. that details the event.
Emergency Planning, Speed Saved Lives
By: Doug Belkin, Andrew Grossman and Kevin Clark
BOSTON—The marathon that two years ago recorded the fastest finish in history staged a spectacularly speedy rescue on Monday.
At stake in this race was human life.
Within five minutes of bombs detonating Monday afternoon near the finish line of the Boston Marathon, most victims had been wheeled to a massive medical tent about 100 yards away, where volunteer medical personnel stabilized patients before loading them onto ambulances that sped to hospitals that mobilized vast teams of physicians and nurses.
The efficiency of the rescue reflected careful planning, heroic execution and elements of good fortune. Its significance can't be measured. The attack inflicted life-threatening injuries upon dozens of people. On Tuesday evening, the death toll stood at three.
"We moved fast," said Jim Hooley, chief of Boston Emergency Medical Services.
Rescuer reaction was so instantaneous that it appeared to be rehearsed, and it was: Two years ago, a citywide drill required Boston police, fire-department workers, hospitals and emergency-medical service personnel to react as if bombs had been detonated across the city.
On Monday, the chaos that inevitably followed the detonation of bombs gave way immediately to an orderly procession. To spectators and runners directed away from the scene, it was an amazing sight: "It was fantastic to see, running toward us, running so fast, just a troop of police officers and first responders," said Adrian Budhu, 33, a marathoner who was only a minute from the finish line when the bombs exploded.
The reaction speed impressed even James Panter, an emergency-medicine physician who happened to be standing only yards from the explosion. Bent over profusely bleeding victims, applying waist belts as tourniquets, he looked up to see a cavalry of volunteers arriving with wheelchairs and stretchers. "It was unbelievable—inspiring," said Dr. Panter, a spectator from Georgia. "The victims were in the medical tents within three to five minutes."
Every ambulance in the city was deployed to the site, including many that had been stationed there to deal with any injured marathoners in need of help.
Mr. Hooley, who was in the medical tent when the bombs detonated, said the circumstances for a speedy reaction were all in the good guys' favor Monday: The blasts occurred on the ground, meaning there was no building rubble to clear. Resources and medical personnel were amassed nearby. And the bombs blew up within 3 miles of six level-one trauma units.
It also helped that the victims began arriving during shift change at several hospitals. Shift change occurs at 3 p.m. at Brigham and Women's Hospital, a three-minute drive from the blast site. Within 15 minutes of the 2:50 p.m. explosions, 28 patients arrived at Brigham and Women's. The hospital went into scramble mode, asking outgoing and incoming shifts to jump onto duty, and said it received 100% response, including from a physician and another emergency-room worker who hurried home from a conference in Maryland.
Until 3 p.m., the hospital had been so quiet that Barry Wante, director of emergency services, had left the emergency area to return to his office two blocks away. It was just then that police and fire departments began shouting on the radio about multiple people down near Copley Square. He rushed back.
Of course, emergencies are the stock in trade for many hospital personnel. "We really are like trained athletes—we go through this all the time," said Dr. Michael Zinner, chairman of the surgery department for the hospital. "But it does affect you, when you are working on a kid and you think, 'This kid is probably an all-star athlete and he may never run again.' "
At Massachusetts General Hospital, chief of emergency medicine Alasdair Conn said five of the most critically injured arrived at the hospital within minutes of death. If not for their lightning-fast delivery to the hospital, he said, "I'm convinced they'd not be alive today."
Dr. Conn praised Boston's emergency medical technicians for spreading patients across the city and not deluging any one trauma center with too many critical patients. Dr. George Velmahos, Mass General's chief trauma surgeon, said the hospital—from its janitors to highest management—had prepared for such an event, with ample blood supply and materials for an influx of near-death patients. The hospital had finished trauma drills before with mannequins, and several doctors, including Dr. Velmahos, have worked in war-torn nations.
"The name of the game yesterday was triage and transport immediately," said Barbara Ferrer, health commissioner for the city of Boston. "From my perspective, The medical response was unbelievable."
A version of this article appeared April 17, 2013, on page A7 in the U.S. edition of The Wall Street Journal, with the headline: Emergency Planning, Speed Saved Lives.
Video: Boston Globe