Electronic cigarettes thrive in Plymouth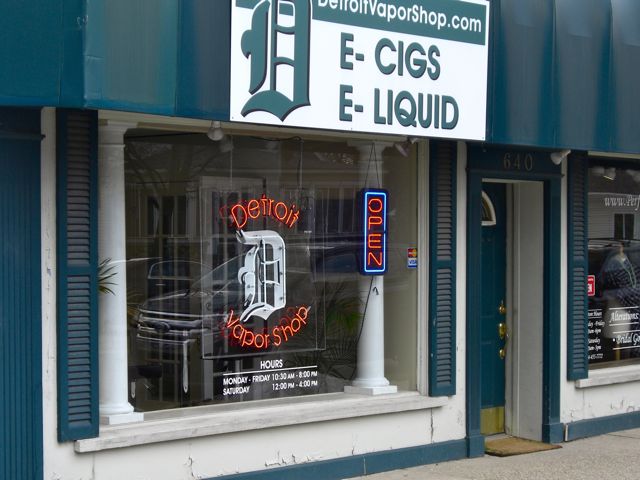 Plymouth has a new e-cigarette business at 640 Starkweather Street.
Apr. 24, 2014  PLYMOUTH VOICE.
Plymouth Michigan News
Referred to as "Vapers" by users, the steam emitting, battery-powered little metal or plastic tubes designed to look like cigarettes are appearing all over town. The devices called e-cigarettes allow them to inhale nicotine through water vapors and at the same time help them quit tobacco smoking. As their popularity soars so does the controversy over their use.
The multibillion-dollar e-cigarette industry, which has exploded in the last few years, is about to come under sweeping new rules proposed by the U.S. Food and Drug Administration.
The proposed new regulations for the sale and use of smokeless tobacco comes amid concerns the products pose a risk to children, while the e-cigarette companies believe further regulation would damage small business and hurt consumers trying to quit smoking.
The New York Times recently reported the FDA would most likely extend its regulatory authority from regular cigarettes to e-cigs that currently are without federal oversight or protection to American consumers.
It is reported that New York City and Los Angeles has banned their use in certain areas such as bars, nightclubs and restaurants. In Los Angeles e-cigarettes are also banned in public areas like farmers' markets, parks, recreational facilities, beaches and outdoor dining areas, stating potentially harmful chemicals are emitted with the e-cigarette vapors.
There is currently no state or federal laws regulating their use and no known local ordinances in the Plymouth-Canton-Northville community to restrict their sale or use.
Survey's show that middle and high school students are using e-cigarettes and they don't believe them to be dangerous. Manufacturers counter and say the use of e-cigarettes is safer than tobacco smoking, but reports show they contain nicotine and compounds such as propylene glycol, water and flavored mist that looks like smoke that users can inhale like a regular cigarette.
"The makers of e-cigarettes say that the ingredients are 'safe,' but this only means the ingredients have been found to be safe to eat.-inhaling a substance is not the same as swallowing it." The American Cancer Society.
The new FDA rules would immediately make e-cigarettes off-limits to children under 18 and require manufactures to tell the agency the components in their products.
E-cigarettes are also available through internet sales, television ads. According to NBC News sales in 2013 reached $2 billion. Prices ranges from $10 to $120. There are over 250 brands available.
Plymouth Voice.