Educators honor school district Wind ensemble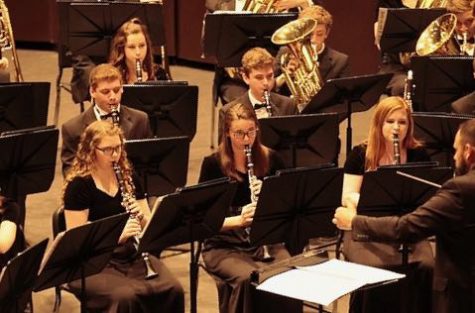 Feb. 17, 2019  PLYMOUTH EAGLE.
Plymouth Michigan News
The Wind Ensemble of the Plymouth-Canton Educational Park was one of the featured performers recently at the prestigious conference of music educators in Michigan.
(MMC) is attended annually by more than 9,000 music educators each year. The attendees include teachers of both professional musicians and all school grade levels including colleges.
G.Jonathan Thomann, director of bands at the Plymouth-Canton Educational Park, was notified of the honor by email from the president of the Michigan School Band and Orchestra Association (MSBOA) last May. The Wind Ensemble is the top band ensemble in the Plymouth-Canton school district.
"Our Wind Ensemble had an amazing year in 2018, and the honor of being selected for the Michigan Music Conference was icing on the cake for all of their accomplishments," said Thomann. "This invitation to perform at MMC in front of a large audience of some of the most talented music educators and students in the state will be an experience they will never forget."
Thomann gave special recognition to the graduating seniors who were members of the Wind Ensemble last year.
"All of our " Thomann said. "All of our graduating seniors came to rehearsal each day prepared and led the ensemble to make music a priority, and went above and beyond to help our band have an extremely successful school year last year. I hope that they are proud of their pursuit of musical excellence and that they know that their legacy will be remembered for years to come."
The Wind Ensemble will perform a special send-off performance at the Village Theater.
Plymouth Voice.