Community celebration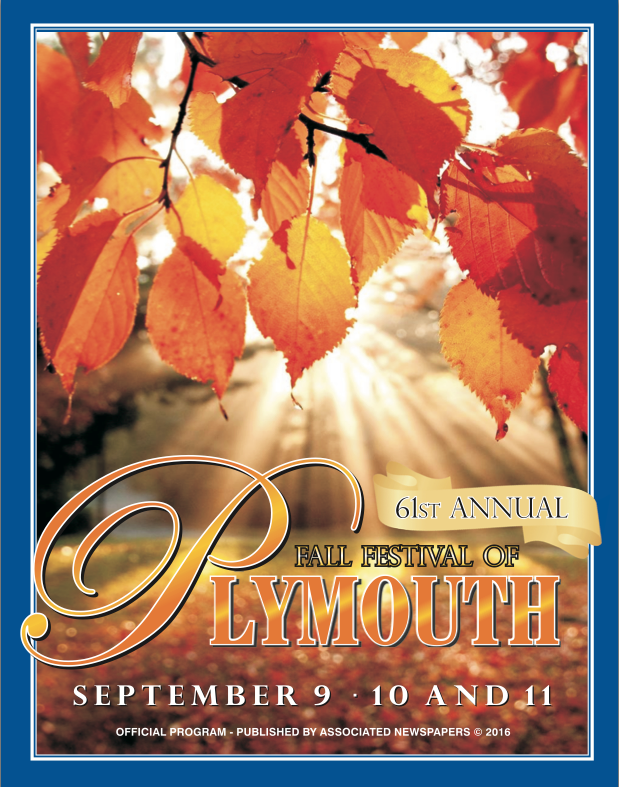 Sep. 6, 2016  PLYMOUTH EAGLE.
Plymouth Michigan News
FALL FESTIVAL INFORMATION
FREE Official Program to the Fall Festival events included with this week's edition of  The Eagle
THE EAGLE ……A PUBLICATION OF ASSOCIATED NEWSPAPERS OF MICHIGAN
The Belleville Enterprise – The Canton Eagle – The Inkster Star – The Northville Eagle – The Plymouth Eagle – The Romulus Roman – The Wayne Eagle – The Westland Eagle
To advertise in The Eagle Call 734-467-1900
www.associatednewspapers.net
CALL FOR HOME DELIVERY
Starting Friday 75,000 people will converge on Plymouth to enjoy the 61st Annual Fall Festival. Main streets will be lined with booths from local clubs, community groups, school teams, churches, garden clubs, veterans and businesses. Kellogg Park will feature entrainment on stage in the park.
Road Closures go into effect on Thursday, September 8 at 10:00 a.m.  The road closures will affect the central core Downtown Area throughout the festival weekend.  All or some portion of the following roads are expected to be closed from Thursday through Monday morning at 2:00 a.m.
* MAIN STREET – From Church to Wing- Traffic will be accessible to Fralick Street and rear of Westborn Market and Schrader – Howell Funeral Home.
* ANN ARBOR TRAIL – From Harvey to Union – Traffic will be accessible to Forest Ave. throughout the weekend, there may be some time on Thursday when access to Forest is somewhat limited.
* PENNIMAN – From Harvey to Union – There will be times that traffic will be allowed through to the Penniman Parking Lot.
Additional FREE Parking will be available for customers and employees by using the Free Fall Festival Shuttle Service from Praise Baptist Church located at 45000 N. Territorial Road and the drop off location is Plymouth City Hall.
Friday:   11:30 a.m to 11:30 p.m.
Saturday: 6:30 a.m. to 11:30 p.m.
Sunday: 7:30 a.m. to 7:30 p.m.
Plymouth Voice.