Bell ringers to compete during Red Kettle drive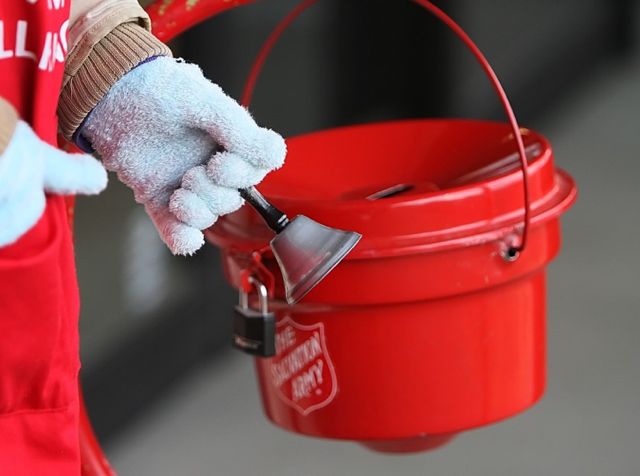 Dec. 15, 2015  PLYMOUTH EAGLE.
Plymouth Michigan News
The Salvation Army Red Kettle Campaign collected more than $20,000 just before Thanksgiving, allowing the organization to provide holiday meals to more than 250 families in the Belleville, Canton, Northville and Plymouth area.
The $21,244.12 total is about 12.3 percent of the organization goal or $225,000 for this year and puts the group 13.5 percent behind collections for the same time frame last year, according to major Keith Bailey and Sandy Kollinger of the Plymouth office of The Salvation Army.
To help promote donations and volunteer efforts, the organization has come up with bell ringing competitions this year.
"We are rolling out two new volunteer bell ringing competitions this year, as well as featuring a bell ringer of the day/week.
"The first competition is to the individual bell ringer that completes the most 2- hour shifts during the 2014 Red Kettle Campaign. The second competition is for the bell ringer that refers the most new bell ringers.
"We have a fantastic prize for the winner of each category, plus an invitation to our awards luncheon in May. The bell ringer of the day will be featured on registertoring.org and our weekly bell ringer will be featured on our Facebook site," Kollinger said in a prepared release.
"If you would like to become a volunteer bell ringer you may sign up online at either ringbell.org or contact Kollinger, volunteer and special events coordinator or Katie Wenzel, our Christmas kettle coordinator by calling (734) 453-5464 ext. 24.
"We live in a great community that cares for others. The Salvation Army could not do what it does without your help," Kollinger said.
The Salvation Army is located at 9451 S. Main St. Plymouth, MI 48170.
Plymouth Voice.