Plymouth community mourns death of Gene Overholt, 99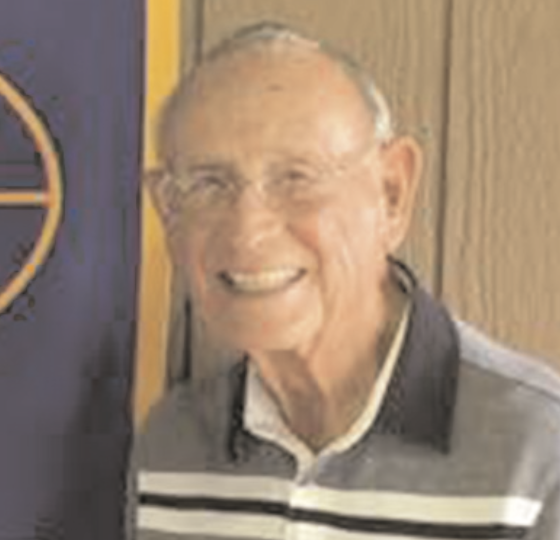 Apr. 19, 2023  PLYMOUTH EAGLE.
Plymouth Michigan News
The Plymouth community is mourning the death of Gene Robert Overholt, 99, who died at his daughter's home in Kerrville, Texas March 31 surrounded by his family.
Mr. Overholt was born in Bippus, Indiana in 1924, and grew up in Huntington Indiana. Following his high school graduation, he served in World War II on the battlefield operating the communication channels which led to his career as a "telephone man." He served in the European Theater and the Battle of the Bulge.
He married the love of his life, the late Jane Johnson Overholt in 1944, and the couple came to Plymouth in 1946 where he took a job with Michigan Bell. The couple were wed for 69 years before her death in 2013.
Mr. Overholt served his community his entire life, his family and admirers said. He helped develop the Salvation Army in Plymouth in 1962 and continued to serve on the board until his death. He was a member of the Plymouth United Methodist Church and served in many capacities during the decades. He served as a Plymouth Township Trustee during the 1960s and is included in the prestigious Plymouth Hall of Fame.
In 1967, Mr. Overholt was among the group of Plymouth men who chartered the Kiwanis Club of Colonial Plymouth. He served both his local community and the world through his work with the Kiwanis organization. He served as president of the local club and became Governor of the State of Michigan for Kiwanis. He proceeded to go through the chairs to become president of Kiwanis International in 1988-1989. He was instrumental in Kiwanis International decision to accept women into their clubs.
Mr. Overholt and his wife traveled to 40 different countries visiting heads of state and Kiwanis Clubs all over the world. He visited the Oval Office twice and met three U.S. presidents.
Mr. Overholt was a familiar sight in annual Memorial Day and Fourth of July parades in the community, traveling in vehicles decorated with American flags.
As a Salvation Army Plymouth Corp Advisory Board member since 1962, he would come in early in the mornings to count the money from the Red Kettles every Christmas season through this past year, friends recalled.
Among his survivors are his daughters, Jodi Overholt Ring, Barbara Overholt (Michael) Toth, Carole Overholt Brooks; son-in-law Howard Ring; grand-children Jason Brooks and Amy Price Brooks, Kristin Brooks, Scott Schopieray PHD, Megan Ring Aurora MD and Peter Aurora PHD; great grandchildren Aidan, Addison and Avery Brooks, Wesley and Henry Schopieray and Tommy and Lucy Aurora, along with a multitude of friends and admirers.
Mr. Overholt founded the Gene and Jane Overholt Educational Scholarship Foundation in honor of his three daughters who were teachers in the Plymouth-Canton Community Schools District. These scholarships have been awarded to students that are going into education or any service profession.
Arrangements were entrusted to Vermeulen-Sajewski Funeral Home in Plymouth.
Plymouth Voice.