Bad boy parrot flies 6-miles to Northville fountain – winds up in police custody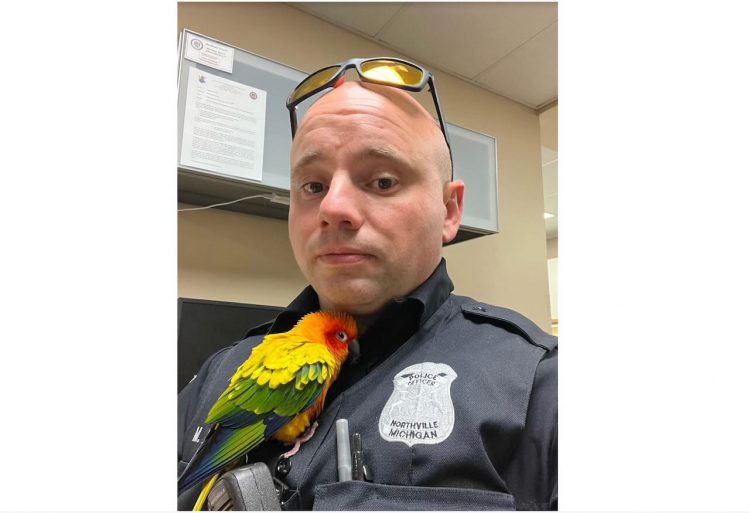 Jun. 23, 2022  PLYMOUTH VOICE.
Plymouth Michigan News
It was an odyssey for the family of Loki, a male parrot, when he flew away from them in Livonia on the evening of June 19 and went missing.
"He escaped his cage when we were transporting him from the house to the car," said Angela Clos, of Livonia. "He just flew. It was 8:30 p.m. on June 19. He landed in the neighbor's tree. It became too late at night. He was calling to us but wouldn't come down."
The next day, he was still in the tree. "At about 2 p.m., he bolted," Clos said. "He flew across 6 Mile into the Burton Hollow neighborhood. Then he went into the woods and we couldn't see him."
Clos' birthday was June 21. There was no sign of the bird. She had put fliers around the Francavilla neighborhood and people were posting it on Facebook. "It was hard trying to be happy on your birthday when your beloved pet is baking in the hot sun," she said.
On Wednesday morning, June 22, DDA worker Bill Conlin discovered a pretty orange and blue parrot in the fountain at Town Square in Downtown Northville. He reached out his hand and Loki climbed aboard his arm and settled on his shoulder. He had flown approximately seven miles to reach the fountain.
Conlin walked him down Main St. until he reached the police department, about three blocks away, and left him with Officer Matt Duggins to serve as his body guard until his owner could be found. During his time in the police department, he slept on the officer and also in a box that served as a temporary home.
Chief Al Maciag requested that an alert be posted on Facebook. That alert was seen by a client of the sister of Clos. She looked closely at the photo in the post and noticed the wing pattern was that of her beloved pet. She nearly jumped for joy and called the police department to claim him.
"It was pretty obvious when the family arrived that they were the owners," said Duggins. "The parrot saw them and curled up on the kids' shoulder." Clos elaborated, "He squawked and started giving the kids kisses."
Loki was silent at the police department, now he's back to saying his favorite things like "Momma, Step-up, Give me kiss."
Plymouth Voice.