Appeal filed in police whistleblower lawsuit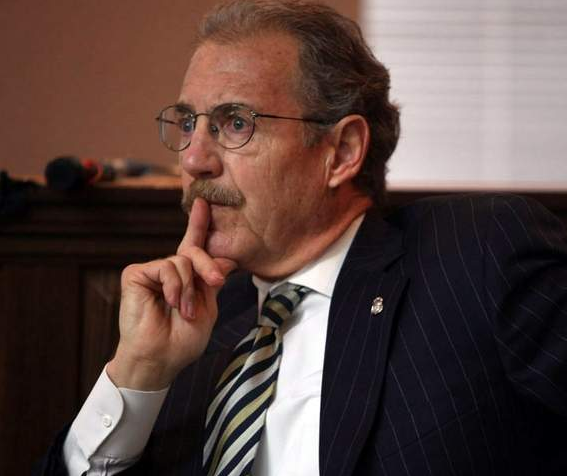 Mike Stefani.  Schaefer's whistle-blower attorney provided copies of explosive text messages to the Detroit Free Press in 2007 that exposed Detroit Mayor Kwame Kilpatrick's lies in a text message scandal.  Photo: Detroit Free Press / Mani Wright
Aug. 14, 2015  PLYMOUTH EAGLE.
Plymouth Michigan News
Don Howard
Staff Writer
The whistleblower lawsuit filed by former police officer Brian Schaefer against Plymouth Township and Police Chief Thomas Tiderington is not over, according Royal Oak attorney Mike Stefani who has filed an appeal of the summary judgment favoring the township.
Tiderington fired Sgt. Brian Schaefer in the midst of a departmental sex scandal and charged Schaefer with conduct unbecoming an officer, leaving his post while on duty, negligence, inattention to duty and insubordination. Schaefer subsequently was placed on administrative leave and twice told by Tiderington that his resignation would be accepted. Schaefer rejected both offers to resign his employment.
Schaefer was subsequently terminated in December of 2013 and claims in his legal filings that the conduct for which he was charged either did not violate departmental regulations or was behavior which was openly accepted or regularly overlooked by the department.
Stefani, in an exclusive interview with The Eagle, said he was reasonably confident the lower court ruling would be reversed and expects the case to be heard within a year.
"It was dismissed on a motion for summary judgment…We feel the judge made a pretty grievous error," said Stefani referring to the May 8, ruling of Circuit Court Judge Daniel Ryan who dismissed Schaefer's claims against the township and Tiderington during a motion call.
"In our opinion the evidence existed that Schaefer was terminated from his employment because he gave a township attorney answers in another lawsuit that negatively affected the police chief. They believed his testimony would not be good for the township," Stefani said. Stefani, adamant about the ruling, said Schaefer was ordered to answer questions during an Aug. 8, 2013 meeting with attorneys representing the township in a wrongful termination lawsuit. During that meeting, Schaefer candidly responded to questions and stated that Tiderington's decision to extend the probationary period of Ofc. Brittany DeFrain was contrary to established Field Training Officer procedures. Schaefer was DeFrain's Field Training Officer and she reported to him. DeFrain resigned from the department rather than accept the extended probation, and claimed in a discrimination law- suit that the extended probation was based solely on her admitted sexual relationship with another married officer in the department.
Schaefer was never formally deposed in the DeFrain case, and according to court filings, did not receive any direction from Tiderington or the township attorneys regarding anything he should or should not do in connection with the lawsuit in which DeFrain alleged that sexual liaisons within the department were commonplace and accepted by supervisors and that no male officers involved in such relations were disciplined. Township attorneys reached a reported $50,000 out-of-court cash settlement with DeFrain in her suit. Stefani, in a legal brief which contains salacious details of multiple sexual liaisons and claims of police officers sleeping, reading, going home or doing errands while on duty, is critical of what is described as, "the relaxed culture of the police department under Tiderington."
Calling the investigation of Schaefer's conduct a "witch-hunt" in light of the widespread and accepted violations of departmental rules, the brief claims Schaefer's termination was not due to misconduct and neglect of duty as the township alleges, but because of the conversation he had with attorneys representing the township in the DeFrain case. It reads, "Despite the frequent, and sometimes blatant, rules violations occurring under his command, Tiderington rarely investigated or disciplined officers."
"The Chief's treatment of Schaefer became immediately accusatory and hostile after he was advised about Schaefer's comments (regarding extending DeFrain's probation)."
"Schaefer, who was in charge of the field training program, was asked whether her (DeFrain's) probation should have been extended and he said 'No'," Stefani said.
"He was asked whether other members of the department had been involved in romantic relationships and he named three others, all who were not disciplined…. One couple who were named by Schaefer are now married to each other," Stefani added.
Laura Amtsbuechler of Johnson Rosati Schultz and Joppich was the attorney repre- senting the township in the DeFrain case. In her deposition in the Schaefer case, she said she "can't remember" where she was, which "phone she was on" or anything else about her conversation with Tiderington after talking to Schaefer but can distinctly and positively remember she didn't tell him what Schaefer said.
Stefani remarked that he thought the statements in the township court filings for a summary disposition describing Schaefer's conversation with Amtsbuechler as "a brief, insignificant conversation," was "pure bull."
Township attorneys cited numerous instances of Schaefer's leaving duty to go to his Livonia home or to his fitness center to work while on duty. They claimed in their filings that he had repeatedly admitted multiple violations of departmental rules during his deposition and that the town- ship was, therefore, within the law to terminate his employment.
"Yes, Schaefer violated some department rules to care for his sick wife but his termination didn't fit the violations cited," Stefani said.
"Tiderington was in a retirement mode, he overlooked a lot of things."
Plymouth Voice.