Apartment blaze displaces 8 Canton families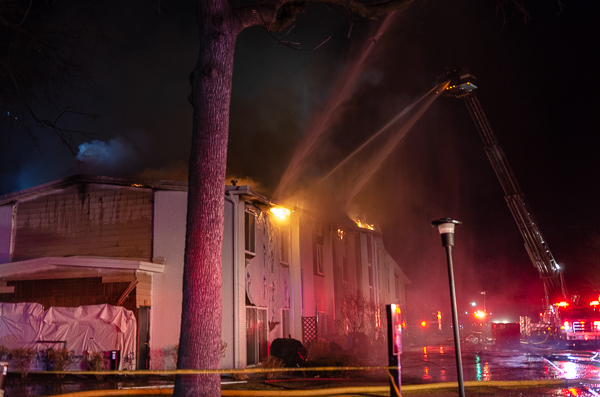 Mar. 14, 2019  PLYMOUTH EAGLE.
Plymouth Michigan News
A fast-spreading fire at the Canton Crossings apartment complex last week displaced eight families and sent one woman to the hospital with smoke inhalation, according to fire officials.
Firefighters responded to the first alarm at 6:18 p.m. on Friday, March 8 within 7 minutes, according to Canton Fire Chief Chris Stoecklein.
The blaze caused serious damage to one building in the complex which is located south of Joy Road near I-275 in the township. Stoecklein said that the cause of the fire was accidental and could have been the result of some-one burning incense.
Firefighters from Canton were assisted by units from Plymouth Township, Northville, Van Buren Township, Livonia, Dearborn Heights and Garden City.
"When we arrived, the fire was already through the roof. We immediately took the offensive and searched the apartment units," Stoecklein said. "We're very happy with the outcome of the fire considering the conditions we responded to-all people exited and we only had one reported injury. Our police and fire services did a great job responding and containing the fire."
The units were equipped with working smoke detectors, officials said. Stoecklein noted that the complex is undergoing some remodeling and the smoke detectors are one of the first items the building inspectors check.
Plymouth Voice.