Ambulance crash remains under investigation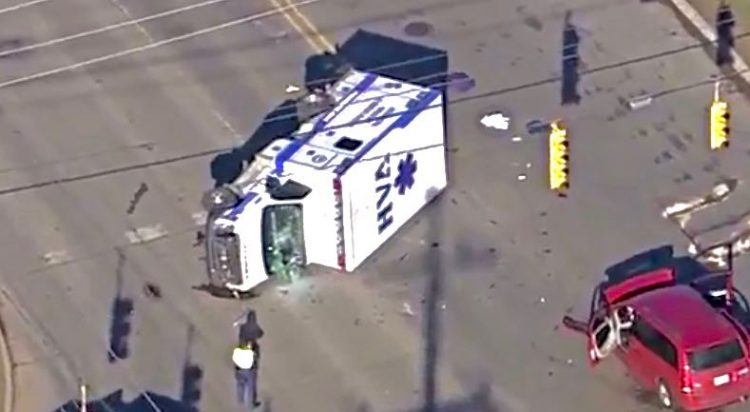 Jan. 6, 2019  PLYMOUTH VOICE.
Plymouth Michigan News
Michigan State Police continue to investigate a horrific ambulance crash that occurred Friday, Jan. 4, in Van Buren Township. A preliminary investigation showed a motorist struck the ambulance transporting a patient as it was slowing to clear the intersection of Haggerty and Ecorse roads, causing the vehicle to roll over. All five motorists involved were transported to St. Joseph Health System.
Two Huron Valley Ambulance (HVA) paramedics were critically injured when a mini-van driven by a 25-year-old woman struck the ambulance in which they were working to save a patient.
According to information obtained from the State Police and their Twitter page, the accident occurred around 1:05 p.m. A Van Buren Township Firefighter was driving the ambulance, while the paramedics were in the back section with the 79-year-old female patient in cardiac arrest.
"As it approached intersection of Ecorse/Haggerty, HVA slowed to clear the intersection before proceeding. Once within the intersection another motorist struck the ambulance rolling the HVA on to its side. A paramedic within the back was critically injured with a head injury."
Latest police reports state the two HVA paramedics, a 25-year-old woman and a 45-year-old man, are now in stable condition. The woman had a broken nose, head laceration, a possible broken shoulder/collarbone and bruises. The man suffered bruising, swelling on the arms and head and possible pelvis injury.
"Origin passenger that was in ambulance (79-yrs old female) was alive upon transport to hospital but has a non-life sustaining brain bleed due to original reason for transport (stroke) and is in very critical condition. The firefighter driving the ambulance from Van Buren FD/PD is stable-complaints of neck/back pain." MSP Metro Detroit.
Reports from those informed of the incident said a 69-year-old driver of the mini-van had broken ankle.
MSP Traffic Crash Reconstruction units were dispatched to the scene.
Police say, in all-five people were taken to area hospitals; the patient, two paramedics, a firefighter and the driver of the vehicle.
Plymouth Voice.
Video still: WJBK-TV Detroit