Wayne County Lightfest – great for family getaways this pandemic season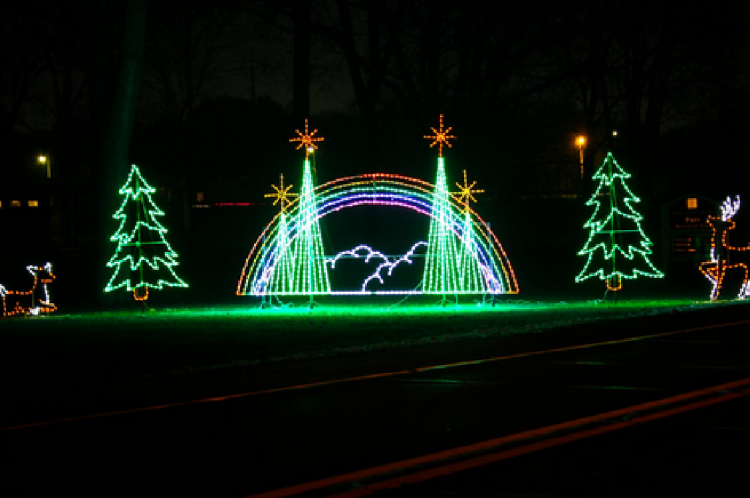 Dec. 7, 2020  PLYMOUTH VOICE.
Plymouth Michigan News
Nearly a quarter of a million cars are expected to tour the Wayne County Lightfest again this year, or more – considering the extended pandemic lockdowns and severe cases of cabin-fever.
For the 27th year, workers from the Wayne County Parks Division worked for about eight weeks installing the nearly 5- mile long lighted holiday display which decorates Hines Park.
The annual display was set to open yesterday and even more visitors than usual are expected as the in-person holiday options will be limited due to the coronavirus pandemic.
The Lightfest, originally called the "Festival of Lights" when it was begun in 1993, has become an attraction bringing even out-of-state visitors to view one of the largest light displays in the Midwest. The display covers an area from Merriman Road in Westland to Warren Road in Dearborn Heights and features animated and lighted displays. Many come from Bronner's Christmas store while others are ordered directly from manufacturers across the country and even China. One section, Land Before Christmas, features moving dinosaurs and there are toy soldiers, leaping frogs, an abominable snowman, a marching band, Santa delivering gifts and a golfer scoring a hole-in-one at the Warren Valley Golf Course. The displays are updated annually and features are usual- ly retired after about two years, according to a parks department official.
Lightfest will remain open from 7-10 p.m. Wednesday through Friday and 6-10 p.m. Saturday and Sunday. Tickets cost $5 per vehicle and can be purchased at 7651 Merriman Road, the route starting point. The display is closed Christmas day. The most popular weekend for the attraction is always the weekend before Christmas, officials said. The entrance to Lightfest is at Merriman Hollow Park, 7651 N. Merriman Road, which is on Merriman between Ann Arbor Trail and Warren Avenue in Westland, 2 1/2 miles south of I-96.
The Lightfest ends in Dearborn Heights at the Warrendale Recreation Area where the Santa Shelter is located, although that feature will not be avail- able this year.
Plymouth Voice.