Watchdog group confronts township supervisor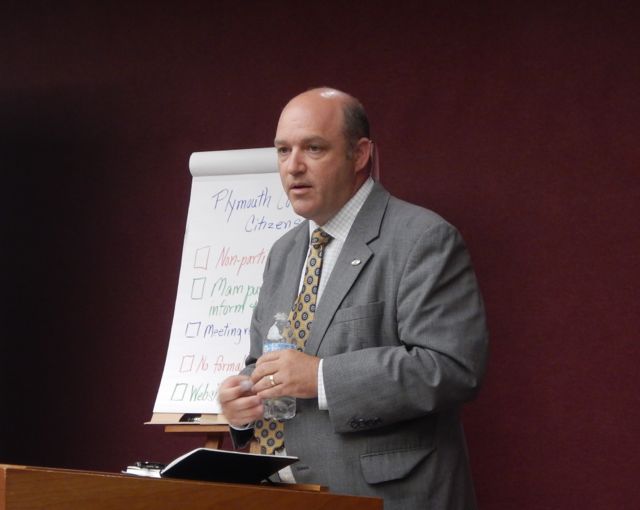 Plymouth Township Supervisor Shannon Price faces critics at Plymouth Library
Jul. 7, 2015  PLYMOUTH EAGLE.
Plymouth Michigan News
Plymouth Township Supervisor Shannon Price took more than an hour last week to answer critics during a meeting of the Plymouth Concerned Citizens group at the Plymouth District Library.
Price, who has been the object of much criticism both from members of the group and other residents, addressed many of the issues and answered questions from the 35 or so people in attendance. Following his introductory remarks, citizens asked him questions on a wide range of topics.
In response to a question about his moving to the township just weeks prior to being named supervisor last April, Price said that he didn't want to move before the county commission election. "I didn't want to give my opponent anything to talk about."
Many in attendance had questions or comments regarding the recent appointment of Mike Mitchell, Price's former aide during his tenure as a Wayne County commissioner, to a newly-created $60,000 position as Director of Parks and Grants in the township. The parks job requirements called for an individual with a four-year degree in engineering, a valid drivers license and the possession of "interpersonal and communication skills necessary to interact with the public, staff and outside agency personnel."
Mitchell and two other candidates were recently vetted and interviewed by Trustee Kay Arnold, Northville Township Manager Chip Snider and Township Human Resources Director JoAnn Coobitis. Observers commented that Price had pre-selected Mitchell for the job and that his qualifications did not meet the job description allegedly posted on the township website.
Price said that the parks director was a needed position as, "The treasurer (Ron Edwards) was doing double duty, working late at night. We asked who was in charge of the grants. The fire chief has grants sitting on his desk. It was the same process we used to get a building foreman."
Resident Chris Hunter asked Price why he was not more forth- coming about the new park director. "Your withholding gives the appearance of impropriety," Hunter said. His remarks were seconded by activist Brian Bentley who said the citizens know that Mitchell is treasurer of the Wayne County Conservative Political Action Committee, which donated a total of $14,800 to Price's campaign committee in 2012 and 2014.
"I never denied we were friends. When we posted the job he decided he wanted to apply. If you want to question integrity, you can also question Kay Arnold, Chip Snider and Coobitis."
State Rep. Kurt Heise, a Plymouth resident, asked Price if he was going to ask Mitchell to resign as the chairman of the 11th District Republican Committee.
"I don't tell him what to do after hours," Price said. "If it interferes with his work, we'll address it,"
Resident and Republican Party precinct delegate Paul Garon asked Price, "How can you justify the golf course when they're constantly losing money?"
In response Price said that there was talk of building a new club house, adding a driving range and establishing new hours. He suggested that a partnership with a private operator could be something to consider at the facility which operates at a $50,000 to $100,000 annual loss.
Price said that there would be a survey regarding recreation in the township and the golf course and the proposed amphitheater would be part of that. He said the amphitheater plan would not go forward without citizen input.
Susan Bondie and Carol Leroue, leaders of the Plymouth Concerned Citizens group, voiced their concerns.
Bondie asked Price when a financial report on the golf course would be available. Price responded that the computer system is being converted from an old DOS system to a new operating method.
Leroue asked about the financial reports in the township, "We ask questions but we never get answers. I've been waiting for 10 years now and what we need is a forensic audit," she said. "How much money do we have in the bank?"
Price responded that he was meeting with vendors and considering the bidding of the township auditing services.
"I think we need to look at that when we bid out our auditing services."
Price also defended the recent awarding of the township rubbish hauling contract to a company whose owner donated to his campaign. Price responded that the Rizzo Environmental Services contract was the most financially sound for the township with the lowest rate increase.
"Rizzo is a half-million cheaper than the next-lowest vendor," Price said.
Price denied being opposed to the Plymouth Area Recreation Center, (PARC), the plan which will convert the former Central Middle School in downtown Plymouth to an arts and recreation complex.
He said he has met with Don Soenen, the leader of the PARC group, several times.
"I've got a lot of questions," he said, referring to a proposed mill- age to fund the PARC facility.
Plymouth Voice.