Veteran police officer retires from township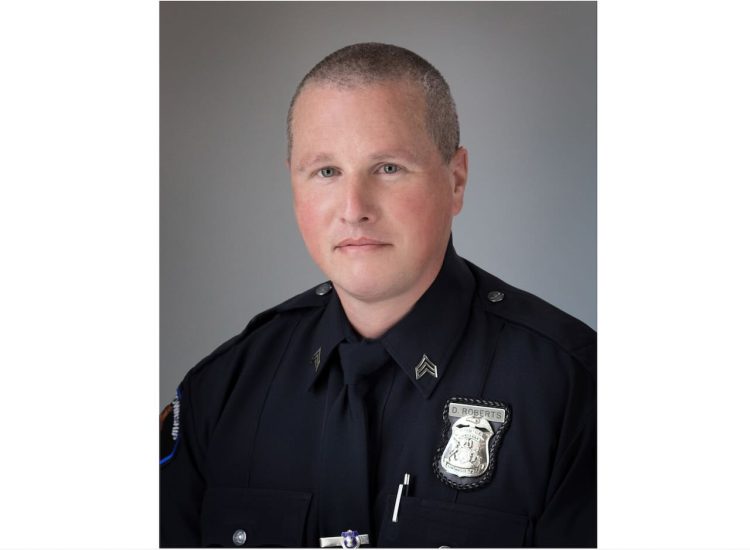 Oct. 2, 2022  PLYMOUTH EAGLE.
Plymouth Michigan News
Northville Township Police Sgt. David Roberts retired Sept. 16, after a 27-year law enforcement career, 22 of them with Northville Township.
Roberts' professional high lights include rescuing a lost horse walking down Ridge and Seven Mile roads, training police departments across Michigan about people with autism and winning back-to-back awards for spotting drunken drivers on the roadways.
Roberts' stellar career with Northville Township began even before he became an officer. At age 19, he was a decoy, assisting the police department as it clamped down on underage sales of alcohol in the township. Back then, he recalled, the detective bureau was housed in a trailer parked outside public safety headquarters.
Roberts returned to Northville after beginning his law enforcement career in 1995 as a deputy with the Wayne County Sheriff's office. During that time, Roberts was assigned to the corrections division, as well as the sheriff's detachment at Metro Airport.
Roberts was hired by the Northville Township Police Department as a patrol officer in 2000. While assigned to the patrol division, he served as one of the department field training officers, responsible for training several new officers over the years.
"I watched the township as it was on the cusp of growth and it exploded, going from cows to concrete, if you will," he said.
Those cows played a role in helping him find the owner of a wayward horse wandering Ridge Road. "I didn't know where to put it. I knew Mr. George who owned a farm with cows at Six Mile Road, and so I walked the horse about a mile with a squad car falling behind me," Roberts said George kept the horse on his farm overnight until the rightful owner noticed a horse missing, and came to claim it.
Roberts is also credited with saving several lives while on the midnight shift with the department. He quickly learned to recognize the signs of driving while under the influence of alcohol. Mothers Against Drunk Drivers (MADD) gave him "lifesaver" awards two consecutive years for the high number of intoxicated people he stopped before they caused an injury or fatal accident.
Roberts spent several years assigned to task forces through the Drug Enforcement Administration and the Michigan State Police task force Western Wayne Community Response team, during which he handled several major investigations and participated in hundreds of arrests of individuals responsible for felony crimes. After being promoted to the rank of sergeant in 2015, Roberts served as a patrol supervisor and also spent time as the supervisor in charge of the department detective bureau.
Roberts' legacy at Northville Township also includes founding the department Honor Guard Unit, which participates in com- munity events and pays respect to fallen officers. He also used his personal experience as a father of a non-verbal autistic child to develop and enhance the department autism profile pro- gram. He provided critical information to officers who responded to calls involving missing vulnerable adults or individuals with autism. His expertise has been shared with other agencies across Michigan.
"He always took the extra time, using his own personal experience, to try and help the families of those with special needs come up with ideas on how to improve the lives and safety of their loved ones," said Northville Township Police Chief Scott Hilden.
Roberts is not finished helping others. His main motivation for retiring is teaching his non- verbal autistic son to communicate. He wants Blake, 18, to be able to ask for help if he ever needs it, he said.
"I'm drawn to helping people," he added.
Roberts said he will also will spend more time with daughter Molly, 19, son Brody, 13, and his fiancéé, Barbara Springer.
"I'm very much a guardian of helping and assisting others," he said.
Plymouth Voice.